Dwina and RJ Gibb with Jim Dooley on "Steve Wright in the Afternoon" (January 3, 2013)
At the studio with Jim Dooley (January 3, 2013)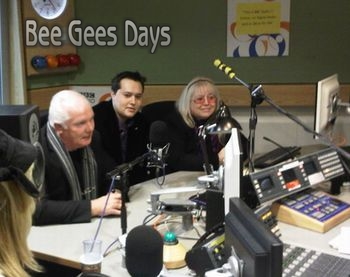 As reported before, RJ and Dwina Gibb appeared on "Steve Wright in the Afternoon" on BBC Radio 2 on January 3, 2013 alongside musician Jim Dooley (of the Dooleys famed for such hits as Wanted) who had campaigned with Robin for the Bomber Command Memorial.
Steve Wrigtht has been a longtime personal friend of Robin, and it was particularly poignant as Robin's last radio interview took place in the same studio 49 weeks earlier for the Palladium appearance, which was again his last. The radio show was originally for promoting the "Bomber Command Memorial Book: We Will Remember Them," but had been brought forward a week in time for the BBC4 broadcast of "Titanic Requiem" on January 4th.
The program included "I Started A Joke, " Massachusetts," and "Don't Cry Alone."
Here's some of what was said:
RJ on life without his father and Titanic Requiem:
Obviously it's devastating for us, but we've got things to look forward to. The work he and I collaborated on, Titanic Requiem, and of course the BBC showing of our Requiem.
He would have wanted everything to move onwards and upwards.
And on Titanic Requiem to be broadcast on BBC the following evening.
Apart from the live show, Don't Cry Alone, the single, will be shown with one of the holograms which is actually of my father because the live shows that will be going out of the Titanic Requiem will have this state-of-the-art hologram technology. We built it from scratch. It's not just using someone else's body with head and face superimposed on top. It's built completely from scratch. It's a complete hologram of him singing Don't Cry Alone. This is pioneering in itself. It will open up doors to bring back other artists. This is something definitely pioneering. Something that should catch on.
Jim on his team effort with Robin for the BC Memorial:
We spent 25 years in the music industry. When we retired from music, we started to work in the charity sector. We worked for various charities, for people who had difficulty getting around and that sort of thing. And that brought me in contact with the RAF and the Bomber Command Association. One of my hobbies is taking pictures. And I was taking pictures of Lancasters and Spitfires and the money was used for the Association. Then Robin (then President of the Heritage Foundation) discovered that there was no acknowledgement, no memorial for the ultimate sacrifice of the Bomber Command. There was no blueprint for doing something like this. Someone just said, "Oh, we can do the memorial for two million quid." Robin and I kind of looked at each other and wondered where we could raise 2 million quid. Robin grew up in Manchester which was a bombsite, and I grew up in London just after the war, and the whole of the east and the north of London had been terribly bombed. This obviously had an influence on us.

Dwina when asked about Robin's interest in military history:
RJ is really interested in military history, and Robin was very interested in military history as well, and any kind of history actually as long as I've known him. And he was personally interested in Charles Dickens and Victorian era. He used to read things on Winston Churchill. He had a signed portrait of him. He's just always been interested in history.
Dwina on Barry's upcoming tour:
Yes, he is going to be in Australia. He's lost three of his brothers, and he's the only one left. So I think it's very good that he's actually out there and singing and doing things. I hope he does it here as well.
"The Bomber Command Memorial Book: We Will Remember Them" can be purchased at fightinghigh.com. More information about the book will follow.
(This program incidentally brought back the memory of one of the first personal conversations I had with Robin soon after his first son Spencer was born. He told me at that time that Spencer was named after his hero Sir Winston Leonard Spencer Churchill. -BGD)
<<<Follow us on Twitter: Bee_Gees_Days>>>