Report: Seeing Barry Gibb in Birmingham (Sep. 21, 2013)
Barry speaking with Bonnie before the Birmingham show
(September 21, 2013)
《Click to enlarge》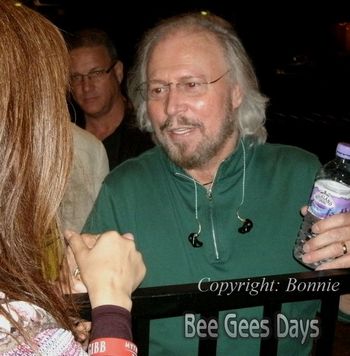 The UK/Irish leg of Bary Gibb's Mythology Tour has now been concluded to rave reviews. Fans from Japan have also traveled many miles to attend the concerts. Barry may have felt the "good vibes" from those who have not been able to be there in person, too. In fact, at the very last concert of the tour at the 02 Arena in London, Barry mentioned "people from Japan" before he started singing "How Deep Is Your Love." (Isn't it gracious of him!)
So here is a wonderful report from "Bonnie" who has traveled all the way from Japan to attend the very first date of the concert in Birmingham (September 21, 2013).
The day before the long-awaited concert, I landed in Birmingham, already feeling quite excited.
When the Immigration officer asked me what "the purpose" of my visit was, I replied, "Barry Gibb concert!" I showed her the red Mythology band on my wrist that someone got for me as souvenir from Australia. The officer returned my smile, and it was all so amiable.
Our hotel was close to the airport. We took a free shuttle which runs every two minutes between the airport and the train station, and from the station it was about 10 minutes on foot to the LG Arena.
The following day, we went over to the arena in the afternoon to get ourselves prepared for the concert. We saw a huge truck parked in front of the arena. It looked like a truck for transporting musical instruments for concerts, shows, etc. We were not sure if it was for the Barry concert or not.
And… I was lucky enough to get to see Barry in person before the concert!!!! I managed to tell him how I had wanted to see him for so long and how fans in Japan were all waiting for him to return. Barry said something like "Finally" and that he's "thinking about it."
I was on cloud nine and cannot remember exactly what his words were. When I was in high school, my dream wish was to speak with him some day, and it was just so overwhelming to have my dream come true after so many years.
The concert opened with upbeat "Jive Talkin'." It really moved me to tears. The set basically traces back the way the group have come. The set list was slightly different from the Australian one. It now included "New York Mining Disaster 1941," their first single after their arrival in UK, "Run To Me," "Chain Reaction" sung by Samantha, "Woman in Love" by the beautiful back vocalist (I'm sorry I don't know her name), and Stephen Gibb's "Fight" (an Eric Clapton cover). In particular, "Woman In Love" was just splendid with her strong vocals.
Suddenly, I found all of us singing along. People in front of me, behind me, and me…we were all singing. I could hear Barry, but I could also hear the audience singing. There was this warm feeling throughout the arena. Once a male voice shouted, "I love you!" to Barry. Barry at once replied, "I love you, Sir!" We all laughed. Barry had such a sense of humour. There was someone else who was repeatedly shouting for "More Than a Woman" ( I think it was) , and Barry's answer was something like, "You shall get it later on." So funny!
Also, during a song, Barry's microphone kept bending forward, and he had to fix it time and time again. At once someone from the tour staff came to his rescue and put it to right, but it was so funny, too. When Barry introduced his staff later in the set, he referred to him as "xxx who mended my microphone," and that made the audience laugh again. There was such an interaction with the audience, and Barry made everyone feel at home. –by Bonnie
Thank you for the wonderful report, Bonnie! You made us feel as though we had been there ourselves. So Barry's "thinking about" coming to Japan? What a great news! Reportedly, Barry is going to play in the States early next summer, and there are plans for European tour as well. A German promoter came to see the Birmingham show, we were told.
The beautiful back vocalist is Beth Cohen. Some fans said she even looks a little bit like Barbra. Her powerhouse vocals and great stage presence has wowed the audience in Australia and now U.K.
<<<Follow us on Twitter: Bee_Gees_Days>>>