Tribute to Trevor Gordon: Archive interview of the Marbles from 1969
Trevor Gordon (left) and Graham Bonnet
from their Marbles days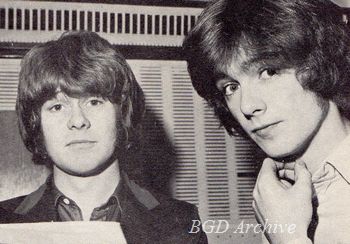 Sad news indeed. Now ex-Marble Trevor Gordon left us. The Marbles were an English duo active in 1968 and 1969, who were best known for the Gibb-penned hit "Only One Woman." According to Noise 11, etc., he was 64. Our prayers.
In this video of them doing "Only One Woman" on Top of the Pops, Trevor is seen on the left playing the guitar while Graham Bonnet on the right is belting out his trademark powerhouse vocals.
The Marbles consisted of Gordon and Bonnet who were cousins and both from Lincolnshire, England. Like the Gibbs, Gordon immigrated to Australia as a child. There he started playing music and befriended Barry, Robin, and Maurice Gibb. Born in 1948, he was younger than Barry, and a bit older than the twins. In 1968, Gordon formed the Marbles with Bonnet and signed a recording deal with Robert Stigwood. Their debut single "Only One Woman" reached No. 5 in the U.K. chart. By 1969, the Marbles had split and Gordon eventually retired from the music scene while Bonnet embarked on his long versatile solo career. According to the Dutch fansite GSI (news dated January 9, 2013), Trevor Gordon had recently written a book about jazz guitar.
As a tribute to this talented musician, here are some excerpts from "Questions and Answers" with Gordon and Bonnet from their 1968/69 Marbles heyday.
Q: What was your first impression of the pop scene?
Graham Bonnet: Everything is as I expected.
Trevor Gordon: It's more hectic than I thought.
Q.Do you get nervous before going on stage?
Graham: Yes, I get a dry throat for the last 10 minutes beforehand.
Trevor: Yes, it's all the waiting around.
Q.Do you do anything to stop your nerves?
Graham: I nip in and out of the loo.
Trevor: I just take a few deep breaths.
Q.Does anything in life frighten you?
Graham: No, I'm very brave.
Trevor: No.
Q.What sort of person are you?
Graham: Handsome, humourous, although I think people laugh at me rather than with me.
Trevor: I'm confident, ambitious, a bit moody.
Q: We know you are cousins, do you remember each other as toddlers?
Graham: Trevor was round and freckly with smelly feet.
Trevor: Graham had blond wavy hair blowing in the breeze, he was bigger than me, but I can't remember him ever bullying me.
Q. Do you write songs yourselves?
Graham: We do, but separately, we help each other.
Q: Do you admire any groups?
Graham: Beach Boys.
Trevor: Simon and Garfunkel, Otis Redding.
Q. Do you like animals?
Graham: Yes, I do, but pussies make me sneeze.
Trevor: Yes, dogs and cats especially.
Q.Do you have any annoying habits?
Graham: Trevor talks out of the corner of his mouth.
Trevor: Graham plays about all day.
Q.How do you spend a night off?
Trevor: We don't have TV so we like to go out together.
Q.What do you see yourself doing in ten years' time?
Graham: I'll still be in pop, just go on making records like Frank Sinatra does.
Trevor: I'll always be in show-biz.
(Pamela Townsend, "Fabulous 208," January 4, 1969)
It's a pity that the Bee Gees were not mentioned when they were asked "what groups they admired," but they could have been talking about older artists who had inspired them as children. Also, after the success of "Only One Woman," Graham Bonnet reportedly enraged Barry Gibb by saying in an interview that "Only One Woman" was a bit boring. The rift was later patched up, but this interview could have taken place at a time when the Marbles were trying to break away from their image as the protege of the Bee Gees and establish their own identity.
<<<Follow us on Twitter: Bee_Gees_Days>>>