"They don't make many like that." –Tribute to Maurice Gibb from Mojo March 2003
He lit up the darkest day…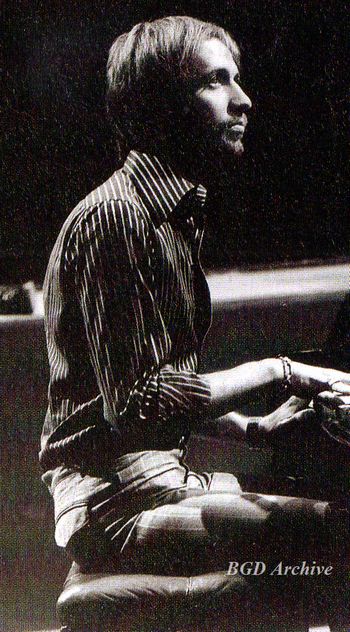 According to Barry, "he never walked into a room, but danced into it," and Robin complained about the way he "dunks doughnuts in his drinks." He looked great playing bass, walking, or just standing there. His eyes were gentle but there was a certain vulnerability lurking there somewhere. How we all loved and still love our man in the middle, Maurice Gibb!
Here are some touching quotes from the obituary that was in the March 2003 issue of Mojo.
Maurice Gibb

-A Bee Gee-
An obituary, inevitably, comes as too little, too late. If nothing else, though, this one might help rectify the nonsensical notion that Maurice Gibb lived in the shadow of his brothers.
Although notorious for his practial jokes, when his siblings drifted into petty crime Maurice assumed the vital – and lifelong – role of stabiliser between the more quixotic Barry and Robin. More than just a third of the trio's distinctive vocal blend, in the first seconds of their first hit, New York Mining Disaster 1941, the combination of his and Barry's guitar parts gives the opening chord of a uniquely melancholy sound.
Gregarious by nature, he was a regular in London's Speakeasy, often accompanied by Keith Moon and Ringo Starr. Here, too, he met John Lennon who instructed him in playing The Beatles' Mellotron, which Maurice used memorably on The Bee Gees' first album.
On May 11, 1967、during the group's first Top Of The Pops appearance, Maurice met Lulu. Their marriage didn't last and Maurice was quick to admit that his drinking problem was a major factor in its failure, just as it was in the first Bee Gees split. The trio drifted apart until briefly, in 1969, Maurice was left as the only Bee Gee. Even then he maintained relations with both feuding brothers and strove to restore their harmony. During times of minimal group activity, Maurice arranged Ringo's version of Bye-Bye Black Blackbird, participated in the making of George Harrison's All Things Must Pass, wrote and performed jingles for Ultra-Brite and Start-Rite and was in the Sing A Rude Song musical.
On October 17, 1975 he married Yvonne Spenceley, a union blessed with two children, the family living in Miami. His passion for music never flagged. When I last interviewed the band, he was buzzing with delight because Brian Wilson had just called to compliment him on Walking On Air, a Maurice composition on the album This Is Where I Came In.
Outwardly healthy, Maurice suffered a heart attack following surgery for an intestinal condition on January 12, aged 53. He will be much missed as a great musician, loyal brother, devoted father and all-round good bloke. They don't make many like that.
–Johnny Black
Once Maurice gave me a slap on the back, saying, "Very good!" out of the blue. I was like "???" and then realized he had put a small seal on my back. It was one of his little jokes. I remember it was a small green and white seal, but I can't remember what it said. Maybe I still have it somewhere. Robin would complain to Maurice when the latter played jokes on him, but you could tell that they really loved each other. They don't make many like that any more…
<<<Follow us on Twitter: Bee_Gees_Days>>>