Barry Gibb speaks of Fever and UFOs [Reuters video interview – May 16, 2017]
Barry Gibb speaking of "looking up and seeing UFOs"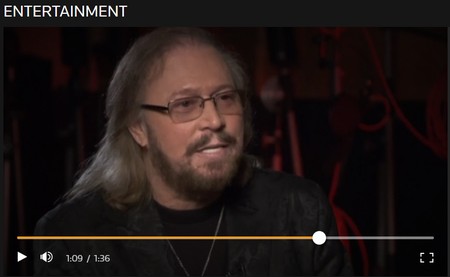 Barry Gibb speaks of how the inferiority complex kept the Bee Gees going and of UFOs – from a short video interview posted on
reuters.com (May 16, 2017).
Narration: The Bee Gees are among the biggest selling artists of all time but, according to last remaining member Barry, they never saw themselves as a success.
Barry Gibb: I have an inferiority complex and so did my brothers so we never really knew whether we'd made it or not and every time we had a hit there was always another record that wasn't a hit. So we got used to that. It was always, "Well, okay, back to the studio and let's try again." There was never, "Oh well, never mind, we won't do it anymore." It was always, "Let's try and again, let's try again."
Narration: The Bee Gees were catapulted to fame in 1977 when they provided the hugely popular soundtrack for disco film 'Saturday Night Fever'. The album won a Grammy award and Barry remembers that night vividly, for an interesting reason.
Barry Gibb: On the same night there were about 10 UFOs that no one was looking at, but I was looking at them and they were 15 or 20 miles up. But I could see them and they were moving all over the place and they were white. They were organized and they'd come together and they'd go apart and then they'd all come together again… but those are memories, that's a memory, I remember looking up and seeing that."
It seems this strange combination of how inferiority complex kept the talented trio of brothers going and what Barry saw on the night of the Grammy was all for the promotion of the recently released compilation album "Timeless."
I was struck by the strangeness of it when I first heard this interview. That is, when I translated Samantha Gibb's interview into Japanese, with the kind permission of Tim Toxborogh who had interviewed her, at first I wanted to include a photograph of Maurice in his fedora in the article. And while I was going through my paper files for that purpose, I came across an old interview of Barry from 1997, done by Chris Hutchins where Barry also mentioned seeing UFOs – on a different occasion. I thought it a fun interview and wanted to translate it and sum it up on this website. Then a few days later, this Reuters video interview came out, and I found myself thinking about synchronicity… Hope it's a good omen, Mr. Barker!
I ended up using in the translated interview of Samantha the link to a YouTube video where Barry and Maurice are seen singing The Lord, because, quite surprisingly I could not find a photo of Maurice in fedora, the kind that I had had in mind. I guess that's because I got too caught up with the image of Maurice, no doubt from the One Night Only period, in fedora and long coat that I was seeing in my head.
By the way is that normal for a person to be able to say how high above certain flying things are? I was impressed that Barry was so specific when he said those UFOs were "15 or 20 miles up."
Barry often referred to having an inferiority complex and being insecure in other interviews, in relation to highly talented artists including Barbra Streisand and Michael Jackson. Barry also said of Robin having a great voice and being insecure. So the feeling of inferiority, insecurity, or inadequacy seems to be the flip side of the gold coin which spurs them onto higher plane of achievements. While I was pondering this, I suddenly remembered that, many years ago, when I was very young, Robin once asked me out of the blue if I had an inferiority complex. In my case, it was no flip side of anything positive but just another sign of my youthful shyness. Well, hindsight is 20/20, they say; but had I only known, I could have had a very interesting conversation with Robin back then.
So, to sum this up, we will be posting soon a summary of the aforementioned interview with Barry which is entitled, I might add, quite accurately, "Barry's X-FILES." So stay tuned.
{Bee Gees Days}