Robin Gibb 2002 interview: "Let's just live for now"
Robin Gibb on a couch (2002)
<Click to enlarge>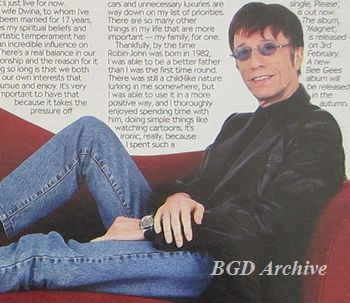 While Please Read Me from the Bee Gees' First album was about a trip to a shrink's couch, this long interview from Woman's Weekly (January 28, 2003) shows Robin on a red couch answering questions about himself. As part of the promotion for Magnet, Robin's first solo album in 17 years, the interview was done in late 2002 and published shortly before the tragic loss of Robin's twin brother and band mate Maurice in January 2003.
Here's some of what he had to say at that time:
About childhood and family:
Although Maurice and I are twins, the bond we share with our older brother, Barry, is just as strong. The three of us created our own little world from a very early age, so much so that we had few friends as we were growing up because our circle was so difficult to penetrate.
It also didn't help that we moved around quite a lot as Dad had a series of jobs that took us from one place to another. We were a very poor family, so we just had to go where the jobs were. My father was a tyrantf of a man, someone to be feared rather than to be near. I was never able to talk to or confide in him. It wasn't his fault — he was just a product of his generation — but he had a Victorian mentality that meant he was the boss of the house and the first rule was that father was always right; the second was, if father was wrong, refer to rule number one.
As a result, I was much closer to my mother, who was very warm and the peacekeeper in the family. She'd be the one I went to if I ever had a problem and she would always listen to what you had to say. I don't know what ambitions my parents had for us — I think it was just hard enough for them to get by day by day witout having to worry about the future as well.
But from as young an age as five, I knew what I wanted to do. Barry had been given a guitar for his eighth birthday and from that moment on all three of us were hooked on music. We had a spontaneous natural hamony from the word go and would busk on the street corner of Manchester – not for money, but for the fun of it.
Even after we Gibbs, along iwth my younger brother, Andy, emigrated to Australia when I was nine, we continued to perform and write songs. My preoccupation with music meant that I stumbled through my school years rather than glided through them. I just kept my head down and tried to stay out of trouble. My parent had taught us the difference between right and wrong, so as four brothers go, we were actually incredibly peaceful.
Return to UK, meeting Robert Stigwood, international stardom, and first marriage:
After leaving school, Barry, Maurice and I took any gig or show we were offered, for no payment, and recorded some bits ana pieces for local radio stations. It was Bill Gates, a DJ on one of those stations, who declared he had the perfect name for us – the Bee Gees, his initials!
We were totally consumed by wanting to make it big, but we knew we had to be in the UK to have half a chance. So we made the decision to come home. I'll never forget staying in this semi-detached house in Hendon, all three of us sharing the same bed because we coulnd't afford another room, and dreaming about what the future might hold. We wanted worldwide domination and we lay there all night talking about how we were going to achieve it!
Little did we know that the tapes we'd sent over to the Beatles' manager, Brian Epstein, had already been passed on to his partner, Robert Stigdood, who was interested in seeing us. A week later, we got the call, and within months I'd married the girl that had made it possible, Robert's assitant Molly!
Robert was, without doubt, the most inspiring and impressive man I'd ever met — he still is and I will always be eternally grateful to him for giving us our big break. He is the most innovative visionary that the British music industry has ever known and without him, Im not sure that the Bee Gees would even exist.
Molly and I got married in 1968 and went on to have two wonderful children, Spencer and Melissa. But I was still such a child myself, trying to find my way in the world, that I really wasn't prepared or equipped to be a father at such a younge age. They needed guidance and would have benefited so much more from having a mature parent. I tried to be as good a father as I could posibly be, but being in this business, it's incredibly hard to be around as much as you need to be and that was probably a contributing factor to the breakdown of the marriage 12 years later. It was a great regret, but I wasn't ready to be a grown-up and I was being asked questions that I didn't know the answers to.
Global success as the Bee Gees:
The Bee Gees continued to go from strength to strength. You'd think that spending so much time together would have caused problems, but although we sometimes have different opinions on professional issues, which most groups do, we have never, ever fallen out over anything personal. I'll occasionally go off and do a project on my own, because I have my own things that I want to try out, but I think that's healthy. The Bee Gees will always be around because there is nothing we enjoy more than writing songs together.
Receiving a CBE, losing Andy
My proudest achievement so far has got to be receiving a CBE last year. Britain is my home and I feel incredibly proud to be British, so it was a huge honour to be given such an award.
Although my Dad wouldn't have been able to exspress it, I'm sure he would have been secretly chuffed to see us receive such an accolade. But, sadly, he died not long after my brother Andy.
(Andy) died from a heart infection that he'd probably had for some time and my father never really got over it. We all blamed ourselves, and I often wonder if I could have been instrumental in preventing his death, but Dad believed that, ultimately, it was his responsibility to protect his youngest son. It was a terrible loss that taught me to live for the moment — we can't experience tomorrow and we can't relive yesterday, so let's just live for now.
"Life is too fragile to be worrying about material things."
My wie Dwina, to whom I've now been married for 17 years, shares my spiritual beliefs and her artistic temperament has had an incredible influence on me. There's a real balance in our relationship and the reason for it lasting so long is that we both have our own interests that we pursue and enjoy.
Neither of us is at all materialistic, though, and I think that was another lesson I learned from Andy's death — life is too fragile to be worrying about material things. I appreciate that I'm in a privileged position, but money, cars and unnecessary luxuries are way down on my list of priorities. There are so many other things in my life that are more important — my family, for one.
Thankfully, by the time Robin-John was born in 1982, I was able to be a better father than I was the first time round. There was still a child-like nature lurking in me somewhere, but I was able to use it in a more positive way, and I thoroughly enjoyed spending time with him doing simple things like watching cartoons. It's ironic, really, because I spent such a long time wanting to grow up, but I've come to realize that most men spend their whole lives being schoolboys. I'm not the odd one out any more and I like being kid in adult's clothes."
(Robin Gibb was talking to Sandie Jones)
The article is concluded with the following: "Robin Gibb's solo single, 'Please' is out now. The album, 'Magnet', is released on 3rd February. A new Bee Gees album will be released in the asutumn."
<<<Follow us on Twitter: Bee_Gees_Days>>>