Robin Gibb on Andy's death, his friend Michael Jackson, etc.
Bee Gees (Daily Star, May 2, 1989)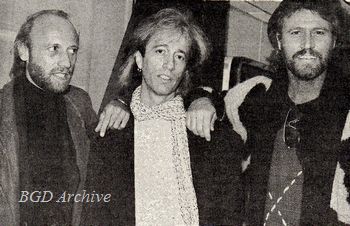 UK tabloid Daily Star interviewed Robin Gibb for their May 2, 1989 article "Bee Gees Are Winning Again! — Tragedy of Andy is behind them." This title is of course a nod toward the group's 1987 hit You Win Again.
In this article which appeared on the eve of the group's One For All tour, Robin Gibb was quoted as saying, "The chapter's closed, it's time to move on." In hindsight, the article is very poignant and almost prophetic. Robin could almost have been talking about himself in some of his comments about the others. Here's a quick summary of Robin Gibb's thoughts at that time on his brother Andy, friend Michael Jackson, and his future plans, etc.
"After his (Andy's) death we wondered if we could have done more to help him. But deep down we knew that no-one could have done more.
"Unfortunately, Andy didn't share our struggle to the top. If he had, he might have handled his stardom better.
"We needed each other while Andy claimed to need no-one."
On his marriage, Robin states, "Even when Dwina fell pregnant with Robin Jnr (RJ) we refused to marry and tied the knot only when we both felt really sure about it.
"Well before Andy's death we were health fanatics, and as a family followed a strict macrobiotic diet.
Although Andy died from natural causes, the abuse he gave his body couldn't have done much good."
Robin's own son RJ "has been trained to say 'No' to harmful substances. He's never eaten meat and won't touch sweets."
On his friend Michael Jakcon, Robin observes, "Michael's another example of what stardom and wealth can do to you. He stayed at my home in Miami after he's begun to have injections to make him whiter. He's obsessed by age and death, he acts weird and his looks are unnatural, but he's the best friend a child could ever have. While I used his studio he'd play with the kids. He's desperately trying to recaputre his youth, but having operations isn't the way to do it.
"I refused to have anaesthetic, let alone a major facial operation. People has died under the scalpel in America, others have come out badly disfigured –it's not worth the risk."
Robin is described as being "happy with his image," but admits that there was a time when he was not.
"Although Saturday Night Fever gave us hits and exposure, it also gave us a medallion man image any man would be ashambed to own up to. The embarrassment it caused was partly to blame for our six-year absence from the charts. (…) It's an era I'd rather forget."
However, Robin says he would "love a part in a film." His brother Barry has "started up a production firm. He's been working on a film for a while, but I'm not sure if I'd like a part in it. Its story line is a little creepy. It's a tale about three guys who don't have long to live — thankfully they're not in a rock group — but all the same I don't believe in tempting fate.
"When I feel it's time fo quit, I'll steep myself in the history of my home town Oxford and hopefuly be inspired to write the book I've always longed to."   (by Kez Owen)
The film Robin is referring to here is of course "Hawks" that starred Timothy Dalton. (Did you know by the way that Dalton made his filmic debut as the young French King in "Lion In Winter," a film whose title was used for a Bee Gees song?) One of my last phone conversations with Robin was about the book he had long hoped to write…
<<<Follow us on Twitter: Bee_Gees_Days>>>