From archive: Andy Gibb Talks To You-Straight From The Heart (from 16 Mag, June 1978)
Andy Gibb (from "16 Magazine," June 1978)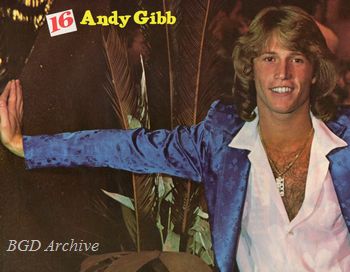 Born on March 5, 1958 and left us on March 10, 1988, Andy Gibb was a March child. Here is a quick summary from "Andy Gibb Talks To You–Straightt From The Heart!" ("16 Magazine" June 1978).
・Ever since his album Flowing Rivers became a hit, everybody's been telling him how much he looked like his brothers. He says, "Some say this one, some say that, and it's getting a bit tiring. Frankly, I don't think I really look like any of them!"
・ He says that his favorite place in the world is probably his houseboat in Miami because "it's enormous–it's got two stories, a piano in teh livingt room downstairs,plus a lovely balcony to relax on!"
・ He says he enjoys taking part in just about any sports, "Hang-gliding, scuba diving, motorcross, skating, skiing." He thinks that's because he's always been "fascinated by danger." He says, "I'm trying out for my pilot's license just as soon as I can!"
・On the subject about him becoming the fourth Bee Gee, he says he's "not too happy" when people talk about it because he's "happy with his own career" and he feels that his bfothers are "happy with theirs." He adds: "I really don't sound like a full-fledged, one-hundred percent Bee Gee any way."
・When Andy was the opening act for the Bay City Rollers in Australia, he never dreamt he'd be in competition with them one day. He feels that they're very talented and actually they're not competing because they're a group and he's a single. He says he's "just glad" all of them have made a go of it!
・Sometimes he wishes he'd had "three or four years to work up to the success" that he was having with I Just Want To Be Your Everything and Love Is (Thicker Than Water). He says, "It's all been happening very quickly and I've had to make lots of adjustments in my life. It might have been easier to have worked up to all this! " but he's also quick to add that he's loving every minute of it.
・Some of his favorite things in life: Roses, Miami, Florida, fishing on a warm, lazy afternoon; the song Vincent that Don McLean did a while back; the color blue; and the astronaut Neil Armstrong, who's his all-time hero, having walked on the moon and all.
Barry mentioned in his comments about Andy during the Mythology Tour that he did learn to fly a plane in his late twenties. So that's another one of dreams that Andy realized.
<<<Follow us on Twitter: Bee_Gees_Days>>>