[From the archives – May 1968] Robin Gibb with Roger "007" Moore at NME Poll Winners Concert
Robin Gibb with Roger Moore
(May 12, 1968)

<Click to enlarge>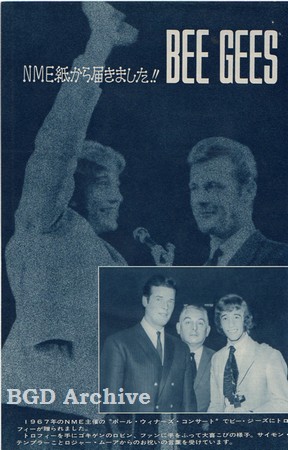 Rest in peace Roger "007" Moore.
The fans of Bee Gees fondly remember him as the host of the NME (New Musical Express) Poll Winners Concert 1967-68, where he was photographed with Robin Gibb.
Time: May 12, 1968
Place: Wembly's Empire Pool
Occasion: NME Poll Winners Concert 1967-68
Robin accepted the award on behalf of his band mates for the Best New Group of 1967.
By the way, it seems the concert was rather legendary as it was one of the last public concerts that Brian Jones of Rolling Stone took part in before his untimely death. A silent 8mm film of the Stones' set from the show lasting for about 4 minutes recently surfaced on YouTube to fuel the interest of music lovers. I wonder if there is any footage lying around in the attic or basement somewhere of Robin accepting the award on the day, too.
The article at the top is a clipping from Japanese magazine Music Life (1968). It states that "Robin was being congratulated by Roger Moore a.k.a. Simon Templar." Before he was cast as the most enduring 007 in history, Moore was known for his TV role as Simon "Saint" Templar. The show was also being shown in Japan back then.
I remember when I first saw the article 49 some years ago (Oh, where did the time go?), I was a little taken aback to see how frail Robin looked. The Japanese Wiki states Moor stood 185 cm in his stockings. So he was about 10 cm taller than Robin.
After almost five decades, they both left us in the month of May. Roger Moore passed five years and three days later than Robin Gibb. "Don't ask me why but time has passed us by… ("First of May" – Bee Gees)
{Bee Gees Days}