Happy birthday, Barry Gibb!
Barry Gibb with family at the surprise party for his 50th birthday
(from "Hello" – September 14, 1996)

<Click to enlarge>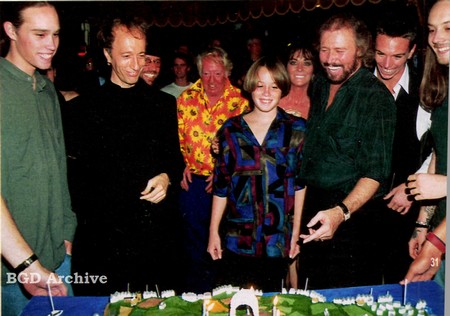 Happy birthday, Barry Gibb!
We wish you many, many more!
Barry Gibb turns 71 on September 1, 2017. The day also marks the wedding anniversary for him and his beautiful wife Linda.
This time we decided to go back a little in time. The picture featured here is from an article about a surprise party thrown by Robert Stigwood for Barry's 50th birthday, from the September 14, 1996 issue of the "Hello" magazine.
They got together to celebrate three things: Barry's birthday, and Barry and Linda's wedding anniversary, and the plan to bring the Saturday Night Fever musical to London's West End the following summer. Here they are looking at something like a railway model, which was actually a birthday cake shaped like the Isle of Man where all the three brothers were born!
Those who attended the surprise party included Susan George and her husband Simon MacCorkindale and Maurice's ex-wife Lulu.
Naturally, everyone looks younger, in particular, Barry's children! It's a pity what twenty years can do to children. And, it's a pity Maurice is half hidden in the picture, but, as always, his smile lights up the whole space around him.
In a recent interview Barry spoke of how every male member of his family went bald as they grew older, except for him. Well, in this picture, Barry and Robin has just as much hair at the top. The few years that followed made the difference. In time Robin started sporting a toupee in public, but everyone agreed he looked just as cool without it. And Maurice, just as his daughter Samantha said in a very recent interview, "knew how to rock a fedora"!
Susan George, who has remained a close family friend even after the passing of Andy Gibb whom she had dated, tragically lost her husband Simon MacCorkindale by cancer shortly before the passing of Robin. Her moving commet at Robin's funeral was about how the remaining family should believe that the deceased are never really gone.
"The time goes by so fast" (from 'All We Have Is Now' by Robin Gibb)
{Bee Gees Days}