Barry Gibb 'In The Now' is Record of the Week on BBC Radio 2
'In the Now' as Record of the Week
on BBC – Radio 2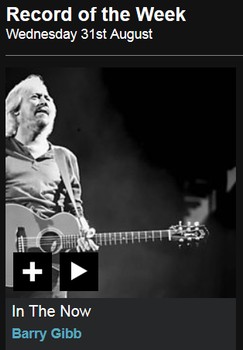 Barry Gibb's new song 'In the Now' made the BBC Radio 2 playlist as the "Record of the Week" (Wednesday, 31st August).
Sorry this is rather old news, but go to BBC – Radio 2 playlist and scroll down to see the song listed! How great is it for the week of Barry's 70th birthday!
To be on the playlist means the song gets more airplay on programs across Radio 2, increasing its chance to reach the audience.
The last time a Bee-Gee-related release made the list was September 2014 when Robin's 'I Am the World (New Version)' made the C list.
{BGD – September 2016 }