43 years ago today, Bee Gees kicked off their Japan tour with a sold-out gig in Tokyo
Bee Gees in Tokyo (the opening night for 1973)
<Just wish more light were on Maurice!!>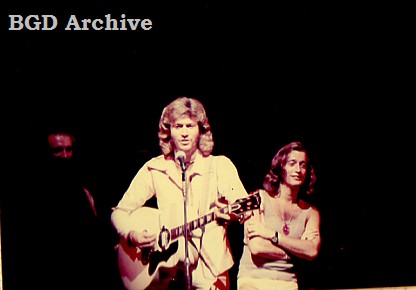 43 years ago today, the Bee Gees kicked off the Japanese leg of their Life In A Tin Can tour with a sold-out gig at Kosei Nenkin Hall in Tokyo.
Barry was looking somewhat thinner and extremely gorgeous with his golden mane. Robin told us that he had his appetite back after he started drinking whiskey and soda. He did not look as skinny and his voice was rich and awesome. Maurice looked a little on the lonely side as he was separated from Lulu at that time, but was utterly funny and charming during the press conference and concerts.
This first Tokyo gig from September 1, 1973 stood out from the rest of the total of some ten concerts they gave in Japan that year due to the fact that, to our knowledge, this was the only set that included "Living In Chicago." If anyone who knew otherwise from their experience of catching the group at any of their regional shows that year, please let us know.
They flew in directly from London on August 30. For them the muggy late-summer weather in Tokyo was something of a shock. During the set, Barry and Maurice were dressed in western-style whitish outfits, while Robin wore a purple singlet and a very tight pair of yellow jeans, looking not totally unlike the traffic lights with this striking combination of colors. He had on his six-million-yen worth capricorn pendant, which he said he never took off because it was "so very expensive." (Did we tell you how much?)
Some of the memorabilia from this tour included a huge poster from one of their Midnight Special appearances which came with the "Best of Bee Gees Vol. 2" album released in Japan to coincide with the tour. Also, if you bought any of their albums sold at the venues, you would get your pick of one of the three posters of Barry, Robin, or Maurice respectively. The photos used for those posters were the same as those used on the cover of the single "Holiday b/w New York Mining Disaster" released in November 1973 and "Charade b/w Heavy Breathing" released in December 1974.
Magazine features on the September 1 concert include a two-page color spread, concert report in b&w, etc. in Music Life, and a two-page black and white spread in Ongaku Senka. Music Life also ran a short piece about Maurice and Jimmy Stevens who opened for them. As this was probably the only article written in Japan about the two of them, we'll get back to it later with more details. Stevens also attended "incognito" the press conference on August 31.