New Suntory advert features the legendary Bee Gees tune
Bee Gees(1978)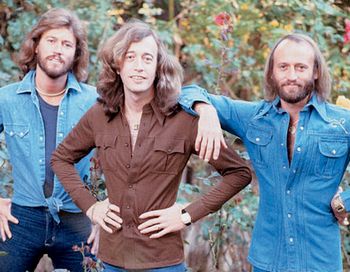 The current Suntory oolong tea advert "Daikukan (Big Space)" features the legendary Bee Gees hit from the late seventies Stayin' Alive. Suntory also used their 1966 hit Spicks & Specks for one of their past adverts. The idea here probably is the refreshing sound for the refreshing tea. The advert debuted on Japanese TV on March 26. So many of you who live in Japan may already have caught it.
Stayin' Alive also made a great impact when it was used in the ad for Honda's Odyssey model in 2008. It featured the original version sung by the Bee Gees themselves, but this time Suntory used a cover version as did IKEA UK. Still, many people must recognize Stayin' Alive when they see the new Suntory commercial, and more people will feel the song sounds familiar, and even more people will be impressed with the song. And that's the strength of the Bee Gees.
Incidentally, NHK BS has recently broadcast "50 top favorite artists chosen by the Japanese audience" where the result of the website poll was announced. The Bee Gees ranked at 41. Personally, I think that shows where the Bee Gees stand today. No, I don't mean that they no longer belong in the top 10 or anything like that. But the poll result brought back the old memory from 1968. One popular radio program did what they termed was a "Pop Request Battle Among 6 Top Artists." The then "top artists" included Beatles, Rolling Stones, Walker Brothers (who were huge especially among teenage girls over here), Cliff Richard, and Simon & Garfunkel. (This last name had previously escaped our memory, and one reader kindly supplied the information.)
One of the focuses of this "populatiry league game" through telephone calls from listeners was how Bee Gees, who were the new kids on the block at that time, would fare against other established names. The Bee Gees were then riding on the crest of wave with a string of hits like Massachusetts, Holiday, To Love Somebody, World, and Words. They were so popular that the record company even released their version of Turn Around Look At Me as a single, because everything Bee Gees just sold like pancakes. Massachusetts in particular was like the biggest pop hit by a foreign act up to then. However, in this particular game the Bee Gees lost to almost all other acts, and ended up being at the bottom. Still, there was no doubt that it was the year of the Bee Gees as far as the record sales were concerned. And, that's Bee Gees for you. Even back then when they were regarded as something of hottest heartthrobs, another juvenile group meant for young audience, they were being loved not as teen idols, but for their songs, for their music.
Once Robin Gibb said that you would not get a big hit if the song only appealed to your fans, but that you needed to reach a wider range of general music fans beyond your core fan base. And I think the Bee Gees kept on accomlishing just that. Time after time. You could replace the word "hit" here with "classic." Just as Barry Gibb said in a recent interview, it's not how high a song is on the chart. He cited the example of How Can You Mend A Broken Heart which was not a chart topper in most part of the world but ended up being a great Bee Gees classic. Songs which endure in the hearts of people, songs which make up the soundtrack of the lives of generations of people. You may not know who sang or wrote them, but every time you hear them there is a pang in your heart… As performers or songrwriters, the Bee Gees are probably more responsible for songs of this kind than most artists, than any other aritst. They are one of a kind, indeed.
<<<Follow us on Twitter: Bee_Gees_Days>>>