IOM Post Office to issue The Ultimate Robin Gibb Collectable
Isle of Man Post Office bringing out a special tribute to one of the island's favorite sons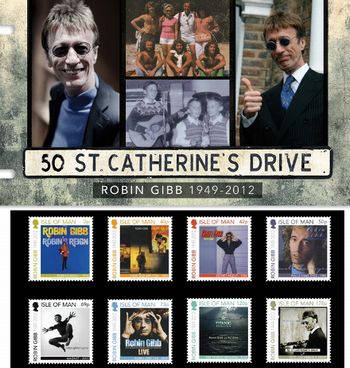 In addition to the stamps dedicated to Robin's solo career, the Isle of Man Post Office has now annouced that they are bringing out their ultimate Robin Gibb collection.
It comprises of the postal label sheet, envelope, and DVD which brings together Robin's career in relation to his native island including interviews done at home in Thame before the first issue of Bee Gees stamps (1999), a performance of Ellan Vannin at King Willam's College, Freeman of Douglas visit, the opening of Rebecca House, as well as unique photo gallery. The date of issue is yet to be announced. For details, please visit the Isle of Man Post Office website.
Robin Gibb stamps and sheets, etc. will come out on April 24. Free worldwide shipping for all of these items.
<<<Follow us on Twitter: Bee_Gees_Days>>>