A "new" Robin Gibb album will be released this autumn
Robin Gibb on "Who Do You Think You Are" BBC (May 2011)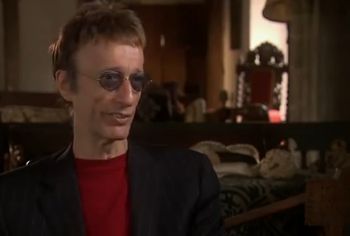 According to Daily Mail Online (August 17, 2012), an album of new Robin Gibb songs will be released in the autumn.
This collection of songs mostly written and recorded in 2008 has so far been known as "50 St. Catherine's Drive." The exact playing order is yet to be announced. According to the Gibb Songs website, the following songs were filed in the US Copyright Office in June 2009.
1. My Personal 9/11 (The title was later changed to "911" on RobinGibb.com)
2. All I Have Is Now
3. Sorry
4. Cherish
5. Mother
6. Wanted
7. Don't Go Now
8. Days of Wine and Roses
9. Sanctuary
10. Avalanche
11. Anniversary
12. Don't Cry Alone
13. Solid
14. I Am the World
All the songs have so far been unreleased except for "Don't Cry Alone," whose orchestrated version is included in Robin's last work "Titanic Requiem,
" "911" and "Cherish" partially made available on RobinGibb.com, and "I Am the World," an early Robin masterpiece brilliantly revisited that was partially leaked. The album has so far been unreleased possibly because Robin himself still regarded it as a work in progress in terms of song selection, etc. Had "Titatnic Requiem" not been considered more urgent due to the 100th Anniversary coming up in April 2012, we might have seen Robin finishing this up while he was here.

Most of the songs were co-written with Peter-John Vettese, who already worked successfully with Robin on "This Is Where I Came in
." According to Gibb Songs, the files at the US Copyright Office states that "Robin has 'Authorship: 65%' and Peter-John 35%." This "new" album will be Robin's first solo studio album since "Magnet" and "My Favourite Carols" and the first solo album of songs written by Robin, by himself and in collaboration, in 27 years since his 1985 "Walls Have Eyes."
The album may be released by Warner Music in U.K. We will let you know the details about the release date and the plan, if any, for the Japanese release as soon as we can. So please watch this space.
<<<Follow us on Twitter: Bee_Gees_Days>>>