Bee Gees Keep Hearts Alive – from Brisbane newspaper
"Bee Gees keep hearts alive"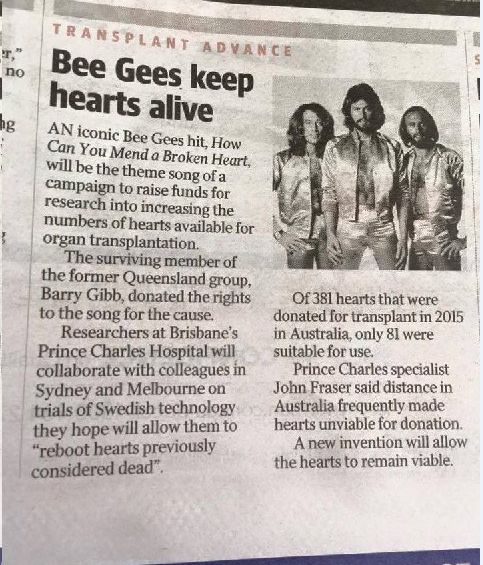 The Bee Gees, who often consoled the broken-hearted throughout their long and illustrious career, are also known for the fact that their Fever-era mega hit Stayin' Alive has an ideal rhythm for performing CPR. They have also been backing various medical researches.
Now we received the following information from Barry's management. It seems they are really helping to mend broken hearts by simply saying they can use one of their best loved songs for a very worthy campaign!
This article from Brisbane newspaper states:
An iconic Bee Gees hit, How Can You Mend a Broken Heart, will be the theme song of a campaign to raise funds for research into increasing the number of hearts available for organ transplantation.
The surviving member of the former Queensland group, Barry Gibb, donated the rights to the song for the cause.
Researchers at Brisbane's Prince Charles Hospital will collaborate with colleagues in Sydney and Melbourne on trials on Swedish technology they hope will allow them to "reboot hearts previously considered dead".
Of 381 hearts that were donated for transplant in 2015 in Australia, only 81 were suitable for use.
Prince Charles specialist John Fraser said distance in Australia frequently made hearts unviable for donation.
A new invention will allow the hearts to remain viable.
(Thanks: Dick Ashby)
{BGD – February 2016}