[Tokyo Event] Bee Gees song featured at a progressive rock/folk gig
Reynardine in action
<photo by Shoko-san>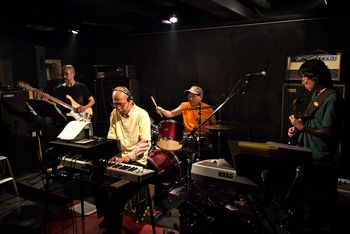 A Bee Gees song will be a part of progressive folk/rock gig Otober 17

The concert by three bands will take place on Saturday, October 17. (See below for details.) Reynardine, the first band to hit the stage at 19:00, will play one Bee Gees song during their set. (Check out the Reynardine website here.)
Reynardine rep person said to us, "We really don't like to announce the name of the group or song title beforehand. We want to surprise our audience when we launch into the song." However, we have successfully talked them into revealing the name of the group they are covering by pointing out the simple fact that "Once it's posted on BGD, every one reading the article would naturally know the artist in question here is the Bee Gees," with us being the info site for the Bee Gees and all. So here we go announcing quite loud and clear – Yes, it's a song by the Bee Gees they are going to cover! (Hear me?) Still, we don't want to spoil the surprise. You will have to be there to find out which song.
As you can see from their website, Reynardine basically covers progressive rock songs. However, they love the harmonies and the Bee Gees and have played Bee Gees songs before (see their archived performances section) including "Gotta Get A Message To You" and "Massachusetts." This time they are going to try something new.
According to them:
The original Bee Gees song uses a great many different instruments, some quite briefly. We will try to reproduce the sound as much as our fingers are able. In order to do that, we have to divide the keyboards in different sections. And then our pianist will bring to the venue, in addition to his already bulky guitar and effector, "a box with different tones" so that he can play the tones that are not in the electric piano.
Hint: The song is described as "a huge hit, and one of their gentle songs laden with layers of sounds" in their Upcoming Gig section.
The details of the concert is as follows:
[Asuka Presents "Progressive Festa"]
Date and time: Saturday, October 17, 2015; Doors open at 18:30
Acts:
19:00   Reynardine (as Moody Blues, etc.)
around 20:10 Asuka (as King Crimson) 
around 21:20 Ummakumma (as Pink Floyd)
[Admission]
Reservation: 2,100 yen +1 drink (from 600 yen on)
On the day: 2,600 yen+1 drink (from 600 yen on)
[Place] ShimbashiZZ
4-31-6-B1 Shimbashi, Minato Ward, Tokyo (Phone: 03-3433-7120)
For readers of "Bee Gees Days," here's a kind offer from Reynardine:
"We, Reynardine, play "progressive" but gentle, mellow stuff. However, if you are only intereted in one song, it's hardly fair to charge you the full amount."
In short, just mention you have read about the gig on BGD when you reserve through Reynardine, and no admission will be charged. (Please pay for your own drinks, though.)
Simply put "BGD" in the subject line, and text "your nickname for the reservation list" and mail it to:
progfolk@hotmail.co.jp
All emails must be received by 9:00 a.m., Friday, October 16.
Reynardine kindly say: "Even if you decide not to come at the last minute, you will not be charged for the admission. We really want those who know and appreciate the original song to come and listen to our own version." So if you love the Bee Gees, Moody Blues, and Pink Floyd, this offer is for you! (I bet anyone who is reading BGD at all would know the song as soon as the first notes are played!)
By the way, do you know that October 17 happens to be the 41st anniversary of the Bee Gees landing in Japan for their 1974 Mr. Natural Tour? So this must really be a good day to drink, reminisce and have good times with good music!
[BGD – September 14, 2015]