"Go and see Barry": To those who have not yet seen Barry's Mythology Tour, an advice from a fellow fan who was fortunate enough to catch his London appearance
Barry Gibb (London O2, October 3, 2013)
<Click to enlarge>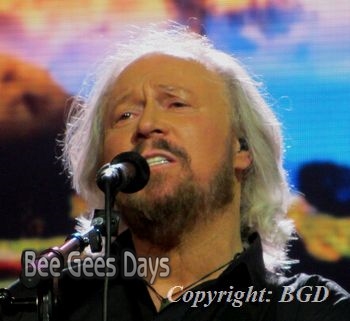 If for logistic reasons you are wondering if you should go and see any of Barry Gibb's U.S. Mythology shows, here's a good piece of advice from a fellow fan who saw Barry during the U.K. tour last autumn.
If you can afford it, try and see Barry. You won't regret it. You'll see a very different Barry from the persona that performed with the Bee Gees: less of the perfect professional; more of the man loving what he's doing, entertaining you in his lounge.
I took my two older girls with me at London, aged 17 and 14. I wanted them to understand and appreciate what has been such a key part of their father's journey. They left the arena as Gibb fans.
And to those who've remarked that Barry looks slimmer and healthier. Well he would, wouldn't he! Linda's got him off of his backside and back on the road, doing what he was born to do.                                                                 -Robin Setty
Thank you, Robin. Robin is a musician and you can listen to his beautiful tribute to Robin Gibb here.
<<<Follow us on Twitter: Bee_Gees_Days>>>