Channel 9 Today Show – Entertainment News: the Bee Gees
Barry Gibb in Brisbane (February 19, 2013)
<Click to enlarge>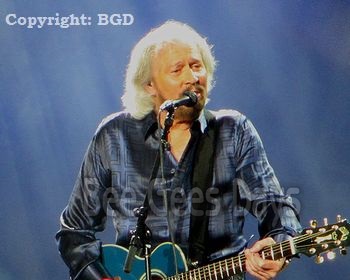 Watch Channel 9, Today Show – Exclusive clips – Entertainment: The Bee Gees at this link!

"Australia has a new tourist destination, which has become something of a Mecca for the fans of the Bee Gees!
It was a massive turnout. Fans of all ages came to pay their respect to THE MAN. "
Barry Gibb on his brothers:
"I think this would have been an inspirational day for them. And you know, maybe…just maybe they are watching us now."
Some ladies in the audience has brought a life-size figure of Barry. When Barry spotted that, he laughed and called out: "Can I take it back with me? I'll stick it in front of the mirror instead of me." When Wilkins, Entertainment editor who was interviewing him asked: "What year was that, Barry?" his answer was, "I can't remember."
Last but not least, our thanks to Barry's management who has sent us the link. We could easily have missed this without their kind help.
(Thanks: Dick Ashby)