Latest "bonus" information of the Japanese edition of Robin Gibb's "Collected Works"
Very rare sleeve photos of the original Japanese
"Robin's Reign" LP will be included as "bonus material"
in the upcoming Japanese release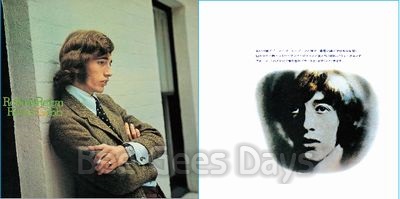 Three weeks to go until the Japanese edition of "Saved By The Bell – Collected Works of Robin Gibb 1968-70" hit the stores. We sent in the final proof for the accompanying 60-page booklet with the English lyrics and Japanese translation late last week, and everything went to the printer's!
The August issue of "Record Collectors" magazine (Japanese), coming out on July 15 will have a quarter-page ad on the forthcoming release. So please check it out.
Also, as exclusive bonus for those who buy the Japanese release, it will include the rare sleeve photos of the original Japanese edition of "Robin's Reign" (see above). The pink "obi" that came with the original Japanese release will also be included for collectors. When we spoke to Warner Japan about this bonus, they immediately liked the idea. So we sent our own copy of the Japanese "Robin's Reign" for them to scan. We are really happy to have this opportunity to share this. Over the years we have had so many collectors from the world over inquiring about this very rare Japanese release.
Work on the 60-page booklet was so hard and dramatic (and, of course, fun!) that we are hoping to do a special report about it on our website soon. Some of us were about to collapse from sheer exhaustion while the work went on! (In fact, I had to stay in bed for over a week in May.)
Firstly, Robin's lyrics from this period were so surrealistic and "out of this world," that it often defied guesswork based on context. Also, there was few reference material. There was only one official songbook which features Robin's songs from this period. It's an early songbook simply called "Robin Gibb," but in many ways you feel you cannot entirely trust the lyrics in the book. As the transcribing went on, we also realized that the vocals on multi-tracks with ample echo were not the easiest things to "decipher."
We had most trouble with Track 13, Disc 1, namely, 'Hudson's Fallen Wind,' and also with Track 23, Disc 3, 'Ghost of Christmas Past,' but most other songs presented challenges as well. Towards the end, we were simply running out of time; and finally Warner Japan people had to almost literally "wrench" the drafts away from our hands as the proofreading went on and we were adding last-minute changes to what we thought we heard. They had already advertised for the August 5 release, but quite frankly some of us would have wanted to check and correct the sheets all the way to the CD shops! (Alas, after the final sheets went to the printer's, we realized there were some mistakes! Sob…)
Still, with help also from Robin Hurley and Andrew Sandoval, two great people who made this project possible, and after hours and hours of listening to the same phrases again and again and again and again (that's what it felt like!), we have been able to solve quite a few mysteries. So, although the English lyric sheets in the booklet may not be 100% accurate, we think we got pretty close. We hope we have done what we could in that brief space of time, and have been able to come up with someting that sheds some light on the unique songwriting talent of Robin Gibb.
Our report entitled "Gentlemen of leisure, please remove your hats, relax, and lend us your ears" will follow shortly. 🙂
<<<Follow us on Twitter for updates: Bee_Gees_Days>>>