"Baroque pop gems" – "Uncut" magazine review of "Collected Works of Robin Gibb 1968-70"
"Baroque, orch-pop gems"
From the review in July 2015 issue of Uncut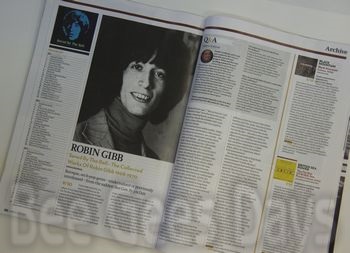 The July 2015 issue of Uncut magazine has a brilliant, in-depth review of "Saved by the Bell – The Collected Works of Robin Gibb 1968-1970," rating it 9/10. It also includes a short insightful interview with Andrew Sandoval, the project's producer.
Here's a quick summary.
The article aptly sums up the Bee Gees in the '60s:
The band had been wildly prolific. Still in their late teens the brothers Gibb released four albums in two years one a double.
On Robin's Reign which is featured on Disc 1:
The magic of Robin's Reign lies in its idiosyncrasy both lyrically and melodically. While the Bee Gees were pop craftspeople, they were also, on the side, quietly, but convincingly experimental….
On Sing Slowly Sisters, Robin's "lost second album," reconstructed and released on Disc 2 of the triple-CD set:
It's mind-boggling to think an album so strong could stay unreleased for so long; there are good grounds to claiming this was Robin's masterpiece. It lights upon far richer territory than Robin's Reign. … While undeniably lush, the overwhelming tenor of these songs is one of almost unbearable sadness.
The reviewer feels that the 12-minute mini epic Hudson's Fallen Wind
suggests Robin could have cut it up there with the Syd Barretts and Arthur Lees of the world.
The article wraps up by defining the significance of this new release:
this triple-set disc not only acts as public service: it also reminds of Robin Gibb's wild, inspired two-year taste of freedom, before the Bee Gees regrouped for their second, unexpectedly world-beating run.
In an annexed interview by John Dale, Andrew Sandoval reveals "the most exciting moments in the 10-year- project" were when he discovered the sources for songs like "Everything Is How You See Me," "Ghost of Christmas Past," Robin's lost "Scrooge" opus, and "Hudson's Fallen Wind." The first was "on a four-track format, as the session reels had vanished," and the second "was on a reel-to-reel that Robin had taken home and recorded some demos over"!
As he noted on the last-minute discoveries that "iced the cake for many," Sandoval also predicts quite promisingly:
I have a feeling that following this release, more Robin recordings from this period will surface from fans.
Sandoval thinks that Robin himself would have been proud. The collection did not come out for so long because:
the Gibbs were never short of songs, so it made spotlight one era of creativity difficult for them during his lifetime. Robin's solo work in particular had come at a traumatic time in the family with Robin spreading his artistic wings solo…
Sandoval speaks for many as he contemplates:
Taken on their own, his recordnigns marked the first time you could really see his contribution to their art.
You can purchase the digital issue the July 2015 Uncut on their website.
You can not read the whole review here.
(BGD – June 19, 2015)