Barry and Robin Gibb Picked among the Best of 2014
This year begins and ends with the Bee Gees
with a lot of Bee Gees in between!
<Click to enlarge>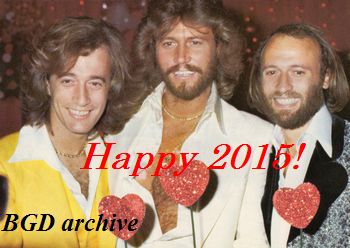 Happy 2015!
The year 2014 ended with the great news: Barry's Mythology Tour and Robin's solo album respectively made "the best of 2014" list.
Firstly, on A.V.Club's "the best of 2014 (online version dated December 22, 2014)" comedian and actor Greg Turkington thought Barry Gibb's Mythology Tour was the "best." Turkington said:
Barry Gibb's Mythology Tour. His first solo tour ever—an astonishing event for a lifelong Bee Gees admirer such as myself. I went twice. Singing high or low, the voice remains flawless, and the song selection included certain deep tracks (some going back to his Australian days) that I never imagined I would hear live, particularly in 2014. In a two-and-a-half-hour-long show, there was a grand total of two seconds where I was not totally enraptured—when he referred to Justin Timberlake as "talented."
Aaand, Robin's "50 St. Catherine's Drive" was picked as one of the best albums of the year 2014 by the Yahoo Music staff (online version dated December 25, 2014). See the picks of Dave DiMartino, Executive Editor. "50 SCD" is at #4.
Wishing everyone all the best for happy, healthy 2015!
<<<Follow us on Twitter for updates: Bee_Gees_Days>>>