Barry Gibb made the Boston Herald "Top 10 concerts of 2014"
Barry Gibb (Hollywood Bowl, June 4, 2014)
<Click to enlarge>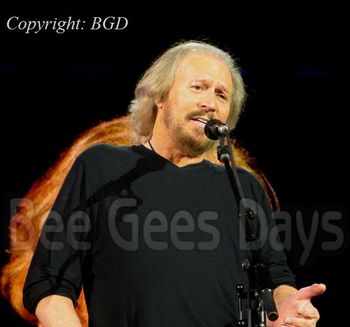 Sorry we are so behind in everything. But better late than ever, hopefully. So this is great news about Barry making the "Best 10 concerts of 2014" as chosen and published by Boston Herald on New Year's Day (online version dated January 1, 2015).
The top 10 was selected by Bill Brotherton who wrote a great review for Barry's Boston show (TD Garden, May 15, 2015) at that time ("Last Best show: Barry Gibb at the Garden, Boston Herald.com, May 16, 2014). So it was not totally unexpected that Barry would make the top 10. Still, it's great to see him ranking at No. 2! (No. 1 show of 2014 for Brotherton, by the way, was Yusuf/Cat Stevens from December 7.)
Brotherton brilliantly sums up the moving experience of catching Barry in the act at the Garden:
Emotion took over as Gibb celebrated the music he and his late twin brothers Maurice and Robin created as the Bee Gees. A great band helped him re-energize the songs that led the three into the Rock and Roll Hall of Fame.
<<<Follow us on Twitter for updates: Bee_Gees_Days>>>