2 weeks since Robin Gibb's "50 St. Catherine's Drive" hit the stores in Japan
The Japanese edition of Robin Gibb's solo album "50 St. Catherine's Drive
" came out on October 22, 2014. So it's been almost two weeks.
In a unique market where domesitc musicians have traditionally been extremely strong, few music magazines about pop/rock music overseas are available, and the CD shops are now going almost obsolete following the universtal trend, we've been concerned how the album has been promoted at sales outlets across the nation.
So our Secret Agents on one of their missions, snapped some photos at a certain Tower Record Shinjuku Store. As it turned out, they have Robin's album prominently on dislpay. It's also included in "Recommended for listening" section as well. (Hooray!)
On the day of the release we had friends calling and telling us: "Went down to a CD shop for the first time in months (or years), and was shocked to find that they no longer had Bee Gees section." That sort of got us worried. We were wondering how many people actually knew that the solo album was coming out.
Kudos to a certain Tower Record! Go! Let it zoom up the charts! (Let's hope that they are doing this at every store across Japan.)
At Amazon.co.jp, "50 St. Catherine's Drive" was #43 on the Pops category at one time. It was the highest position as far as we could see during the first week. Considering that it was out of stock for a while following its release (Speaking of logistics…), and the campaign by the record company was virtually non existing, we would say it's doing rather well. The situation reminds us of what happened when Robin last played in Japan (Tokyo, September 2005) . At that time, most Japanese fans did not even know that he was in Japan until after the concert was over.
We heard from Japanese fans who had long waited for the Japanese edition.
Kudos to whoever placed the album this way!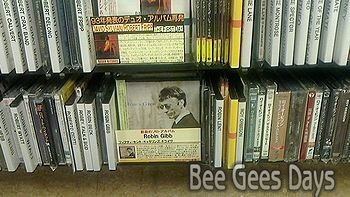 ● Finally! Now I have Robin's solo album!
●Robin is back! That's what it feels like.
●I love the bonus track for Japan "All That I Cherish."
●"Sydney" makes me cry.
Wish they had released it without added accompaniment. But then it might have made me cry even more…
●I'll take my time with this. I know I'll keep on listening to this album for a long time to come.
● I have no words to describe the way I feel…it's just so touching!
●I am playing the album every day…and crying.
Thank you for all your messages.
In a situation where we don't have the artist himself promoting the new album, it might be a difficult fight to keep its visibility; however, he was speaking for all of us when one person involved with the release recently said to us, "It is a great album, and I am confident that it will sell well over an extended period."
(Thanks: Yamachan)