"50 St. Catherine's Drive" – Information on the Japanese bonus track 'All That I Cherish'
The Japanese edition of
"50 St. Catherine's Drive"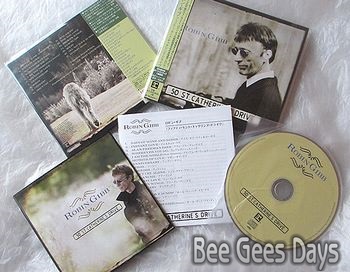 Everyone who started listening to the pop music in the '60s knows that voice. The voice that we heard on such unforgettable hits like "Massachusetts" and "I Started A Joke."
Just like Barry said in his beautiful tribute: "We all loved Robin. He had a unique spectacular voice. It didn't take any efforts. He just did it, and we all loved it."
Robin's beautiful voice and beautiful heart remained unchanged to the very end. And tomorrow we will have another great gift from him as the Japanese edition of his new solo album "50 St. Catherine's Drive" hits the stores.
The Japanese edition has a special bonus track "All That I Cherish" as the 18th track.
When we first sat down with the representative of the estate of Robin Gibb and discussed the possibility of a bonus track for the Japanese edition, we were told that they wanted "Sydney" to be the concluding track and that it might be the 18th track on the Japanese CD and a bonus track might be the 17th. As it turned out, they have opted to make "Sydney" the 17th track in line with the global release. But if you listen through the album, you will know why they wanted to make "Sydney" the concluding track.
Regarding "All That I Cherish," Dwina Gibb told us:
This is a love song written by Robin and Michael Graves in 2005. Robin recorded it in London that year. It was shortlisted for a "Shrek" film. It is a complete version, and we are lucky to have it now.
Because the song came from earlier recording sessions, when they first put together the solo album, the song was not yet ready for inclusion. Otherwise, it would have been included in the global release. So we are really fortunate to have this gem out now so that we all get to hear it! Robin sounds so good here.
<<<Follow us on Twitter for updates: Bee_Gees_Days>>>