Latest on the release plan for Robin Gibb's last solo album
Robin Gibb Special Folder is still available
from the Isle of Man Post Office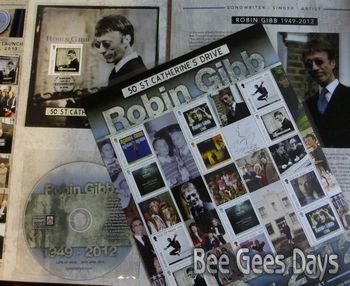 Here's the latest info on the release plan for Robin Gibb's last solo album "50 St. Catherine's Drive."
At one time there was a talk that it might get released in autumn this year (see earlier report), however, the latest we heard from Robin's team is that the album is being worked on by Dwina and RJ with a release planned for the first half of next year. For details, please watch this space.
As reported earlier, the album title was taken from the address of the childhood home of the Gibb brothers on the Isle of Man. When the unveiling ceremony was held at the house in April this year, Robin Gibb Special Folder shown on the right, which includes DVD of Robin's interview footage, etc. , was released. It is still available from the Isle of Man Post Office website.
(Thanks: Robin's team)
<<<Follow us on Twitter: Bee_Gees_Days>>>