Dwina Gibb's new e-book "Pandora's Dilemma" is out now
Dwina Gibb at the launch of "Isle of Noises,"
September 2013
(Photo: Courtesy of Dennis Gimes)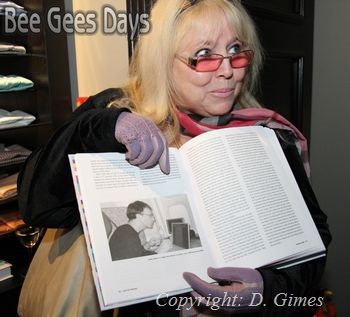 A new e-book called "Pandora's Dilemma" by Dwina Gibb was published by Mythwood Books, a publishing firm for digital publishing operated by her friend and author John Matthews.
As a writer Dwina Gibb published the first two volumes of her "Cormac" trilogy (the third and concluding volume is advertised as forthcoming also by Mythwood Books) from Pan in the 1990s and has self-published three books of poetry to date. According to Dwina's blog dated November 8, 2013, the new e-book is "a romantic Regency mystery novel."
The picture on the right shows Dwina at the launch in September this year of "Isle of Noises" which features an extensive interview with Robin by Daniel Rachel.
<<<Follow us on Twitter: Bee_Gees_Days>>>