Robin Gibb talks about "Melody Fair" and the late 60s
Robin Gibb getting interviewed at home (March 20, 2011)
Photo: Courtesy of Robin Gibb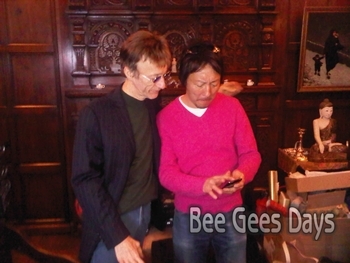 The Song To Soul program on BS-TBS featuring "Melody Fair" from their 1971 soundtrack to the film "Melody (also known as "S.W.A.L.K.") will be repeated from 11:00 p.m. next Tuesday July 10.
As reported earlier, it includes an exclusive interview with Robin Gibb taped at his home in Oxfordshire on March 20, 2011. Actually, soon after the taping Robin was hospitalized for health issues and was diagnosed with cancer. So this was in fact his very last interview before he became aware of the illness that eventually claimed his life.
When Robin was approached by the "Song to Soul" production team, he wanted to know what the program was about and how it was perceived in Japan. So we assured him that it was a quality program targeted at adult Japanese audience. Robin was travelling to Germany at that time. He read our email during his flight, and by the time he reached Germany, his mind was set. We heard back from him in the middle of the night that he would do it for the Japanese fans!
In this valuable interview, Robin spoke of how he enjoyed the film "Melody" and its innocence. From the way he talked about it, the late 60s was obviously a very memorable time for Robin. He was a newlywed, recording "Odessa" with his brothers. He once selected 1967 as "the year of his life" for a UK radio program as well.
The "Song To Soul: Melody Fair" also includes interviews with the lead actress of the film "Melody," Tracy Hyde, as well as Vince Melouney fondly recalling his days as a Bee Gee.
This will be the third and probably the last showing of this episode. As quite a few fans have written to us that they don't get the program at where they live, we hope to give you more details about the program sometime soon after the final showing.