Barry Gibb and UTG are working on Bee Gees bio musical
Official Bee Gees tweet about the musical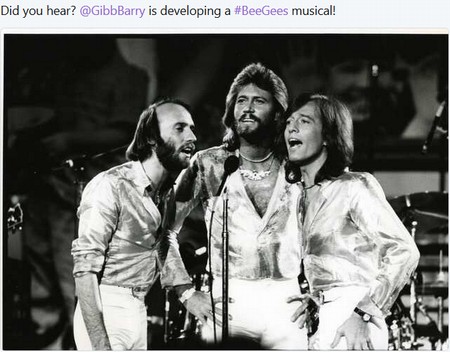 Barry Gibb is developing a Bee Gees musical under agreement with Univeral Theatrical Group!

As has been reported by various entertainment media, the long-awaited musical project is moving forward now.
According to Variety (online edition dated November 8, 2017), Universal Theatrical Group (UTG), the theartical division of Universal Pictures, is working with Barry.
Here's a quick summary of the above article:
A Bee Gees stage musical is on the way, with Universal Pictures' theater division, Universal Theatrical Group, pacting to
develop a production based on the life story and hit tunes of
the 1970s supergroup. Barry Gibb will executive produce
UTG made the deal with Gibb, Yvonne Gibb (the wife of the late Maurice Gibb) and the estate of Robin Gibb for the rights to the band's life story and music for a show that will chronicle the success of the three Gibb brothers.
No creative team or title for the brewing production has yet been set. In its broad outlines, a bio-musical about the Bee Gees sounds could potentially follow in the successful footsteps of "Jersey Boys," the behind-the-music tale of the Four Seasons that ran on Broadway for ten years, and "Beautiful," the Carole King bio that's been running for four.
When Robin was in Japan in 2005 during his solo, or "Bee Gee on his own" as he preferred to call it, tour, he was also asked about this musical plan (I told you it's a long-awaited project!) during the Tokyo press conference. He said he was not yet certain whether it was going to be a drama musical with music by the Bee Gees as with the case of ABBA's "Mamma Mia" or it was going to be about their own life story told through their music. He was checking different DVDs even while he was in Japan and talking about the musical. It was obviously a project very close to his heart.
In autumn 2009, they decided on making it a bio musical and both Barry and Robin, albeit separately, went to see "Jersey Boys" on stage. On another occasion Robin joked that he hoped his part would be played by someone really good-looking.
Barry stated in an interview last year that he was hoping to place the Bee Gees catalogue where it should be. Maybe he opted to go back to UMG as he had in mind what Universal Pictures and Theatrical Group could do as he was thinking of moving foward this (long-awaited!) project.
If it is going to be a bio musical, they will have to audition for child actors who can really sing, I assume. (As I wrote before, my personal dream would be to have their life story made into a Japanese anime using the original Bee Gees music. If so, no miming will be required, for sure! Any suggestions?)
{Bee Gees Days}