13 years on – Remembering Maurice Gibb
Maurice peeling potatoes (1969)
<Click to see the entire picture>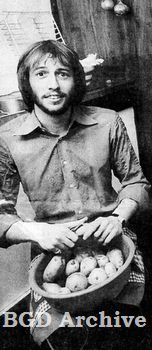 Maurice Gibb passed 13 years ago on January 12, 2003 at Mt. Sinai Medical Center in Miami. On January 15, the memorial service for him was held, and he was cremated.
Barry was too upset to attend the service. An article from The Sun (January 16, 2003) reports that "Robin Gibb broke down yesterday at the funeral of his twin Maurice," and that he was "30 seconds into a speech when he had to return to his seat." A friend was quoted as saying: "It was all too much for him."
Robin's short speech included the words: "He was a guy who was really, really loved – unusually loved."
Daily Mail (January 16, 2006) reports:
About 300 family and friends had just left the chapter in Miami when (Michael) Jackson, wearing a turquoise suit, arrived in a black stretch limo with Maurice's brother Barry.
Barry, it was said, had been too upset to attend the ceremony. After emerging from the car, the two walked inside, armes linked.
Sometimes fans talked about who among the brothers was the really key, essential member. Some say it's Barry, an extraordinary talent and exceptional singer with charisma and movie-star good looks; others argue it's Robin with his unique, emotional voice. Yet others say that in the years following Maurice's premature passing it became all too obvious who really made it all possible because after Maurice left us, Barry and Robin could no longer create or recreate that magical sound.
<The photo at the top shows Maurice during the honeymoon period from his first marriage to singer Lulu.>
{BGD – January 2016}