Robert Stigwood passes at age 81
Robert Stigwood (far right) with Ahmet Ertegun and Robin, Barry, and Maurice Gibb of the Bee Gees
(May 1975)
<Click to enlarge>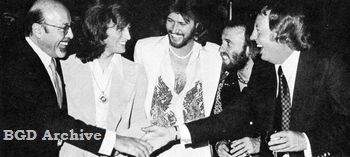 It is sad that the very first news of the new year is about another great loss to the world of entertainment. Robert Stigwood, the former manager of the Bee Gees passed away on January 4, 2016, at age 81.
The dramatic rise to international fame of the Bee Gees might never have happened that way without Robert Stigwood, whom they met upon their return to England in early 1967. The Gibb brothers were too talented to remain in obscurity for too long, but their story would certainly have been different without the historic encounter.
In memory of Stigwood who was also his godfather, Spencer Gibb posted the following message on Facebook (See Spencer Gibb Official Artist Page).
I would like to share the sad news with you all, that my godfather, and the longtime manager of my family, Robert Stigwood, has passed away. A creative genius with a very quick and dry wit, Robert was the driving force behind The Bee Gees career, as well as having discovered Cream, and subsequently managing Eric Clapton. He was also of course, the creator of the movies Saturday Night Fever and Grease, and many Broadway musicals with Tim Rice and Andrew Lloyd Webber. RSO Records pretty much defined the late 70's. Of course, his biography is very extensive and can easily be found online…..I would like to thank Robert for his kindness to me over the years as well as his mentorship to my family. "Stiggy", you will be missed.
The photo at the top is from the special celebration of the Bee Gees' 20th anniversary as musical entertainers held at Rockfeller Center, New York, on May 28, 1975. Pictured from left to right are Ahmet Ertegun, then chairman of Atlantic/Atco Records, Robin, Barry, and Maurice Gibb, and Robert Stigwood. With Ertegun gone in 2006, of the five seen laughing and talking here Barry is the only one still here.
In May 2012, Stigwood attended in wheelchair the funeral of Robin Gibb, the boy he made a teenage star over four decades ago. With Stigwood now joining the stars, it really feels like the end of an era.
There's a bright new star when somebody dies
(from "I Still Love You" by the Bee Gees)
{BGD – January 2016}