Robin Gibb recording Titanic Requiem with RPO
Robin is a picture of concentration as he listens to RPO playing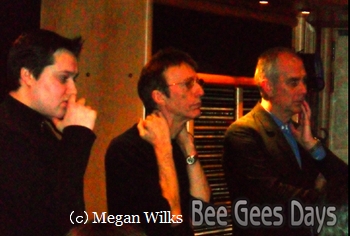 February 21, 2011, Robin Gibb completed the third day of "Titanic Requiem" recording at Air Studios in London. Robin and his collaborator and son RJ were there as "Maiden Voyage" and "Lacrimosa" were recorded with Royal Philharmonic Orchestra.
(Click on the picture to enlarge)
Also on March 8, there were recording sessions at Sunrise Studios with Isabel Suckling, a 12-year-old Decca recording artist.
Final sessions with RPO are scheduled for late April and the album is slated for year-end release at this time. Robin is really proud of this project which is his first classical work.