Robin Gibb unveils blue plaque for Sir Noman Wisdom
Robin was approached by a police officer for an autograph
In his capacity as the Chairman of Heritage Foundation, Robin Gibb attended the blue plaque unveiling ceremony for the legendary comedian Sir Norman Wisdom at the latter's native home in Fernhead Road in north London on March 6, 2011.
Despite cold weather, hundreds of people reportedly turned up to see the ceremony.
British newspaper The Sun reported in its humourous account "Grit and Wisdom of Norman's plaque " (online edition March 7, 2011) how Robin and Sir Norman's son Nick got showered in debris as they pulled the string to reveal the plate, with three adorably "human" pictures of Robin.
Obviously, no one was hurt by falling plaster, and after a while everyone was all smiles, including the local police officer who asked for an autograph (and probably got it!).
Yes, it does look a bit crumbly…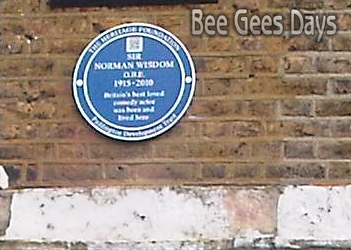 Everyone was all smiles…