Bee Gees achieving strong sales in Japan – Part I
"Bee Gees" sighting Part I – display at a CD store in downtown Tokyo
(August 2018)
<Click to enlarge>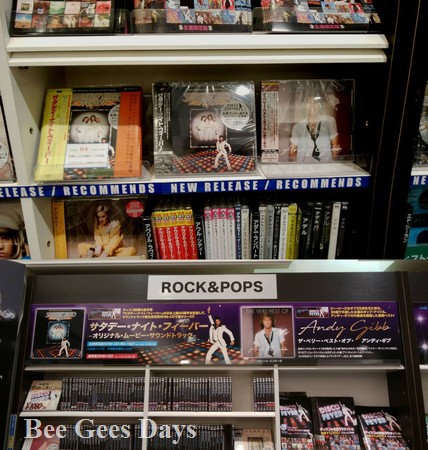 We are so happy to let you know that various releases from Universal Music Japan to commemorate the 40th Anniversary of "Saturday Night Fever" are doing well.
SNF Sighitng in Tokyo: The photos on the right were taken by a fan at Yamano Music Store in downtown Tokyo in mid-August. They told the fan that the those CDs were selling well.
I have a personal memory about this particular store, too. Back in early 1972, just before the Bee Gees's first Japan Tour, I walked into the store and was greeted by a huge poster of the Bee Gees, with a photo from the Don't Wanna Live Inside Myself photo shoot, hung on the wall. That was a happy surprise.
It is also nice to see that "The Very Best Of Andy Gibb" that came out on the same day are put on display alongside the Fever CDs.
We are getting other "sighting" informatin from fans. So there will be a Part II. 🙂
{Bee Gees Days}