Bee Gees as adults looking back at themselves as children
Bee Gees as adults looking back at themselves as children

<Click to enlarge>
(Photo courtesy of Tim Roxborogh)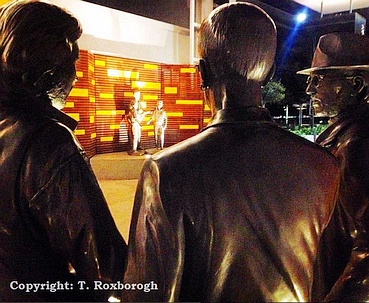 Here's a mesmerizing approach to photorgaph the statues at the Bee Gees Way in Redcliffe of which Barry unveiled the Stage II last September.
This unique photo was taken by Tim Roxborogh, known Beegeeologist and journalist from New Zealand. He kindly permitted us to share with you here the photo he originally posted on Instagram.
The BeeGees as adults looking back at themselves as children. Took this late last night at Bee Gees Way in Redcliffe (north of Brisbane) as Nights On Broadway blared through the speakers. A tribute to the Gibbs, their incredible career and their Australian childhood, it's a very special place. (Tim Roxborogh, May 15, 2016)
From this "adult" point of view, the childhood is immersed in light. Very poignant if you think of all that has happened.
From this visit, Tim also posted on his Facebook a video: 90-second walkthrough of Bee Gees Way with his own commentary. So check it out. Tim says that, after visiting the place, he "returned to the hotel, twiddled his thumbs for 10 minutes and decided to go back," and adds, "Well, when you're as big a fan as me why wouldn't you!" We certainly would! Night and darkness seem to render the place even more magical.
(Thanks: Tim Roxborogh)
{BGD-May 2016}