Paper-jacket reissue of remastered "Sgt. Pepper" soundtrack
"Sgt. Pepper" soundtrack to be remastered and reissued
<Click to enlarge>
(Photo courtesy of Universal Music Japan)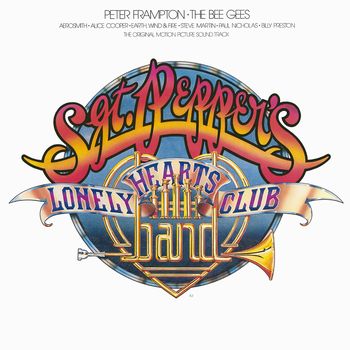 The original soundtrack recordings of the film "Sgt. Pepper's Lonely Hearts Club Band" featuring Bee Gees and Peter Frampton will be reissued on SHM-CD by Universal Music Japan on June 29, 2016

According to the Universal Music Japan's website, this two-disc set (UICY-77763-4) , priced 3,309 yen including tax, is part of the "Friends of the Beatles" project which commemorates the one and only visit of the Beatles to Japan that took place in June 1966.
The UMJ person in charge also let us know that the forthcoming release will include the sheets of lyrics in English and Japanese translation as well as liner notes by Kenji Inomata and Masataka Negi reproduced from the 1998 release.
The details are as follows: Paper jacket, gatefold cover with embossed front, two inner sleeves, a poster and an "obi" reproducing the design from the earliest Japanese LP release. Only a limited quantity will be available.
Incidentally, when Robin Gibb was in Japan for what was to be his last concert in Tokyo in September 2005, he stayed at then Capitol Tokyu, a historic hotel formerly known as Tokyo Hilton where many stars stayed including the Beatles in the '60s and the Bee Gees in the '70s. Robin looked rather puzzled, noting the pictures of "Beatles everywhere."
"The only time the Beatles were in Japan…" I offered, trying to explain the historic connection of the hotel to the Beatles.
"They stayed here."
Robin finished the sentence for me, quickly losing interest. He did not look overly excited that the hotel was making such a fuss over being the only accommodation for the Beatles in Japan. After all, the Bee Gees too had stayed there. (He showed off a remarkable memory by pointing out that the hotel's interior had not changed much since his last visit some 30 years before.)
(Thanks: Universal Music Japan)