New book about the Bee Gees is coming out this fall
A new book about the Bee Gees is coming out this fall!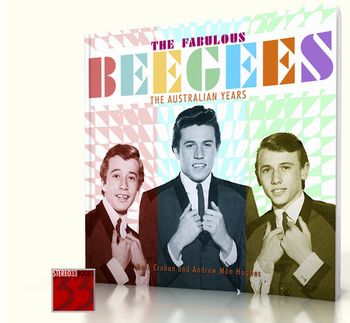 A new book about the Bee Gees is coming out this fall. "The Fabulous Bee Gees: The Australian Years" will be published in September to commemorate the 50th anniversary of their great Australian hit 'Spicks & Specks.'
The co-authors, Andrew Môn Hughes and Mark Crohan, who were also among the team of experts that brought out "The Tales of the Brothers Gibb," the most detailed account on the Bee Gees to date, spent ten long years researching and writing this great forthcoming book.
For details, please read the book's official press.
Here are some excerpts from the above with highlights by BGD:
One of the most successful vocal groups of all time, today the Bee Gees' reputation rests largely on a five year period from the mid-Seventies on, which resulted in them recording an astonishing five platinum albums by the end of that decade, of which the Saturday Night Fever soundtrack became the biggest selling pop album of all time, an accolade it held for many years.
These oft-cited statistics tend to overshadow the Bee Gee's earlier successes; Number One singles at the start of the Seventies, a string of hit singles across the late Sixties, plus a number of well-crafted pop albums.
And if those early Brit-Pop hits sometimes get overlooked today, then it is little wonder that the Gibb brothers' formative years in Australia are often by-passed completely.
This new book will put that right at a stroke.
It was in Australia that the Bee Gees learnt their craft, from tentative forays onto the stage whilst still at school, to the discovery of their innate talent for song-writing which finally brought them their first Australian hit in 1966.
The Gibb family emigrated to Australia in 1958, searching, as did so many of their fellow-citizens (and encouraged by the Australian Government looking to grow their economy), for a better life-style in the ration book years in Britain which followed the War. Most biographies cover the Gibbs' emigration – this book gives you the details of the ship they went on, cabin manifests, ticket prices, contemporary adverts for the voyage and more. You begin to get an idea of the sort of remarkable detail of the work.
The Gibb brothers, aged just 9 and 12 did impromptu vocal performances in board ship on their way over, and just eight years later achieved sufficient success in Australia to inspire them to return to Britain and try to develop this recognition in what was then the music capital of the world.
Those eight years of hard work were crucial to the brothers' later success, and are documented in detail in this new book. The authors have spent a huge amount of time researching this period of the Bee Gees career, and the result is an unrivalled look at the trio's development.
Within just a year of their arrival in Australia they had already attracted a promoter and were appearing regularly on local radio, and a year after that made their TV debut. It is a remarkable story, and their father (who had worked as a musician himself for a time in Britain) realised their potential and began managing them, as well as liaising with their schools when they had to take time off to record their TV slots.
The Bee Gees' ambition and self-belief was matched by their ability, and before long they started writing their own material, as well as penning songs for other recording artists. Little documented, around fifty Gibb songs were cut by other artists during this period; all are carefully reviewed and illustrated in the book. By 1963 the group were polished enough to be chosen to support Chubby Checker in Sydney.
Inevitably given their promise, that same year they got the recording contract they had been aiming at, and began releasing singles as The Bee Gees, followed by their first album at the end of 1965.
By this time the group were already talking about moving to London, sending letters and tapes of their material over to prospective labels. One of these was passed to producer Robert Stigwood and he saw the potential right away.
So when they finally acted on their instincts and arrived back in Britain in early 1967, they knew that they had a good chance of repeating their Australian success. Arriving with just a couple of hundred pounds to keep them going, within a matter of weeks they had signed a five year recording contract and were really on their way.
As well as documenting their early Australian career in fascinating detail, the book also covers their writing and session work whilst they were there, and looks at the material covered by other artists both locally and in America. Many of the rarest and most collectable vinyl releases associated with the brothers are documented, some of which have never been heard of before.
Dozens of records are also illustrated, as well as numerous pieces of rare memorabilia from the period, and an incredible array of concert clippings, adverts and photographs.
In short, if you count yourself as a dedicated Bee Gees fan, then this is the definitive book on this period you have been waiting for.
The publisher ST33Books and the authors seem to have gone to great lengths to ensure the quality of what has once been described as a "coffee table book" by one of the authors. As a result:
The book is delivered in large format, allowing plenty of room for the rare photographs and memorabilia, much of which is shown in full colour. The book is presented on 150 gsm high quality art paper, and both printed and bound in Britain as a limited edition.
The authors Mark Crohan and Andrew Môn Hughes are acknowledged experts on the history of The Bee Gees. Both were co-authors of the acclaimed book 'Tales of The Brothers Gibb' for Omnibus Press which became one of their best selling titles, went to four English editions as well as Russian and German translations since it was first published in 2000. Read the Author Profiles on the site.
The book will only be available in this format through mail-order, so secure your own copy or copies. Hardback and softback copies signed by authors and other goodies will also be available/announced in due time.
Sign up to their email newsletter here to receive updates. You can also join their Facebook page.
"Great Expectations" was one of Robin's favorite books. And that's exactly what we have for this forthcoming book!
{BGD – April 2016}