{March 1972} 44 years ago today – The Bee Gees played at Budokan
March 1972 – Magazine article announcing the Bee Gees' first Japanese tour and the tickets for the two Tokyo concerts

<Click to enlarge>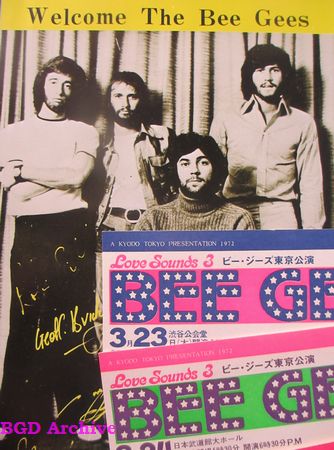 44 years ago today, the Bee Gees were in the middle of their brief, first ever Japanese tour and played at Budokan in Tokyo, a venue since made famous by live albums by such celebrated acts like Bob Dylan and Cheap Trick.
The photo on the right is from a Japanese music magazine, probably "Shinpu Journal," announcing the tour at that time.
Robin was in one of his rare "bearded" states. And the photo also includes a printed autograph of Geoff Bridgeford who prior to the tour was generally regarded as a new Bee Gee.
The two tickets are for the two Tokyo shows: Shibuya Kokaido Hall (March 23, 1972) and Budokan (March 24). Tickets were quite colorful back then. The best seats are 2,700 yen each for the former and 2,100 yen each for the latter, which as mentioned before was not bad at all.
A two-disc compilation album called "My World: The Bee Gees Best Collection" was issued on March 10, 1972 to coincide with the tour. The tagline reads:
The Bee Gees known for "Massachusetts" and "Melody" are coming to Japan!
These tickets also show that they were categorized as part of "Love Sounds" series Kyodo Tokyo was promoting at that time. In other words, they were largely regarded as an MOR artist, easy to listen to. That's why some people are still surprised when Johnny Lydon quite insightfully states that their music was a "human heart sliced open and offered to the public," something with much depth and sincerity.
{BGD – March 2016}