"We are getting prepared…" Weekly FM (November 11-17, 1974)
Bee Gees in Tokyo (October 18, 1974)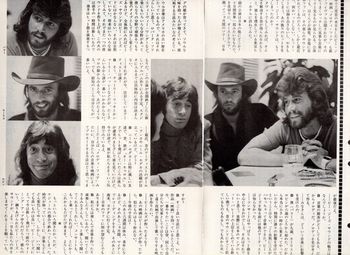 During October and November, 37 years ago, the Bee Gees were in the midst of the longest Japan Tour in their career.
They arrived in Japan on October 17, 1974 and on 18th did a photo shoot with their Japanese opening act Belle and an interview with the Weekly FM Magazine. On 19th, they did a rehearsal during the afternoon and kicked off the 3-week-long Japanese Tour with an evening appearance at Nakano Sun Plaza Hall, Tokyo.
The two-page Weekly FM interview entitled "We are getting prepared…" was featured in the issue dated November 11-17, 1974.
The Bee Gees are in Japan for their third Japanese tour… The tickets are almost all sold out… However, something is definitely wrong. They haven't had a hit since when? Does the fabulous Bee Gees sound which churned out hit after hit now belong to the bygone days? So we went and chatted with the guys at their hotel in Tokyo to find out what they have been up to.
This opening paragraph of the article pretty much summarizes the situation in which the Bee Gees found themselves in those days. They were in the middle or at the end of what Barry later termed as their "pop wilderness" years.
At any rate, the chart success was (and probably has been) the measure of their success in the minds of many. However, as Maurice Gibb stated about "Massachusetts" being just "commercial," it seemed that the group placed more emphasis on artistic achievement than commercial success at least at the beginning of their international career. Perhaps no one knew at that time, but in late 1974 they were on the eve of the unprecedented commercial breakthrough, which in turn proved to be a curse in disguise, at least partly, for them. So how Weekly FM approached the group at that time is quite interesting in hindsight.
Q: Is this a world tour?
Bee Gees: It's almost like "Round the World in 80 Days," and we have been to Canada, Australia, and Far East over the last two months. Japan is the last stop.
Q: The set list is primarily focused on old hit songs, right? We understand that. In fact, some of the new songs that are having chart success and popular among the Japanese youth today sound very much like the old songs. However, new generations of audience are growing and more people are interested in, say, soul music. How do you address this issue?
BG: Soul music is based on the historical American music and it's wonderful in its own right. People like Roberta Flack and Stevie Wonder, you know. But there are different kinds of music and we will pursue our own kind of music. We are changing the type of music we do a little bit, but basically it's the sound of the Bee Gees and it will stay that way. We will check different aspects of music and come up with something new, new sound for us. During the tour in Japan this time, we will play new songs during the first half of the set and old hits during the second half. We will be recording a new album after the tour is over. We haven't made any specific plan about it yet. That has to wait until we are actually in the studio.
Q: Tell us which artists do you find interesting now?
BG: Well, there are so many wonderful musicians, but professionally, we are interested in people like Charlie Rich and Shirley Bassey at the moment. But at the end of the day we like the Bee Gees best!
Q: Do you think that promoting your music through film, like you did with "Melody," is a good approach?
BG: We think it is a very good way of doing it. We are waiting for a good piece of work (film) to come our way. What we want to do most now is to make a film where we play different characters, not three brothers.
Q: Like the ones the Beatles did?
BG: The Beatles have already done that, so we can't make a similar film.
Q: What is your plan for the immediate future?
BG: After the tour is over, we will have a six-week break. And in the new year, we will spend two months recording our new album in Miami. And then we are going to South America and Canada.
Q: Is there anything you want to tell your Japanese fans?
BG: We are having fun making and playing our music, so we hope you'll have fun listening to it. We hope to come back often and see you very often!
This "new album" that they were planning to record is, of course, "Main Course."
Robin Gibb said during the tour, "We are going to Miami in the new year and record our next album at the white building that is featured on the record sleeve of Eric Clapton's 'Ocean Boulevard' album." And this "next album," of course, would be "Main Course," which turned the tide for the Bee Gees. By the way, Clapton was touring Japan at the same time, and Barry and Linda Gibb went to one of his concerts on their evening off.
However, their hope to "come and see (Japanese audience) often" did not materialize. We had to wait until "One For All" tour in 1989. In the mean time, there would be the white hot Fever days and the tragic death of Andy Gibb. The "One For All" also turned out to be the last Japanese tour by the three brothers.
As times are ever changing, so is the music. But good music always remains good music. Maybe the Bee Gees are now getting prepared to take yet another big leap forward. We can't wait to hear from them the "new Bee Gees sound" that they promised us during the interview.
This is how the article ends. Well, the rest is history.