From Dwina Gibb about Robin's headstone now in place
Robin Gibb's headstone (May 2015)
<Click to enlarge>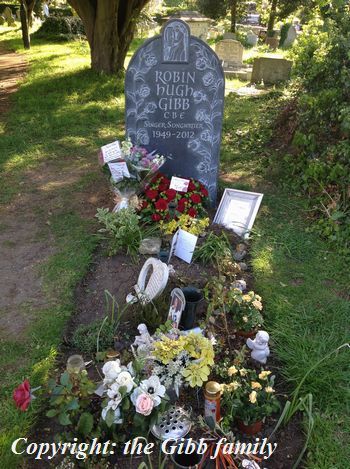 Dwina Gibb wrote to us the following:
The headstone is finished at last after hundreds of hours of work and sourcing the Kilkenny Blue Marble from a quarry in Ireland. Some statues Robin loved in our garden are also made from this stone. Martin Cook, the gold-medallist sculptor, finished the work of art on the morning of the 13th May, and put it in place later that day. It was an emotional moment for us to see it there. We hope that family, friends and fans will appreciate the thought and work that has gone into it.
RJ and Megan photographed it in place, so I am sharing the photos with you. Maxwell witnessed it being put into the ground and played with some of the photos of Robin and little angels and birds that fans had put on the grave. We will have a special blessing later, but we were anxious to have the stone there before the third anniversary. It is decorated on both sides and has writing on the edge: Our Songbird Has Flown. Ribbons of some chosen songs are carved on the west side, and the east side has special Celtic writing for the name. We chose a simple carving of Saint Cecilia the Patron Saint of Music above Robin's name because Robin visited her tomb in Rome and carried a small stone from there in a tape box for many many years. Everything about the stone has special significance to the Gibb family, and we are proud that it will be there for centuries to represent Robin's wonderful creative loving soul.
Love and Good Wishes from Dwina and family. **
Robin Gibb's headstone #2(May 2015)
<Click to enlarge>
As far as we can make out, the songs engraved on the stone are the following twenty-seven (or twenty-eight, if you count How Can You Mend A Broken Heart twice):
How Deep Is Your Love
For Whom the Bell Tolls
Emotion
(Titanic?) Requiem
I Started A Joke
I Close My Eyes
I Am the World
Night Fever
I've Got To Get A Message To You
Saved by the Bell
You Win Again
You Should Be Dancing
How Can You Mend A Broken Heart (twice)
Don't Cry Alone
Nights on Broadway
To Love Somebody
Love You Inside Out
Tragedy
Desire
Woman In Love
Still Waters
Islands In the Stream
Juliet
All the Love in the World
I Still Love You
Words
Massachusetts
Robin Gibb's headstone (May 2015)
<Click to enlarge>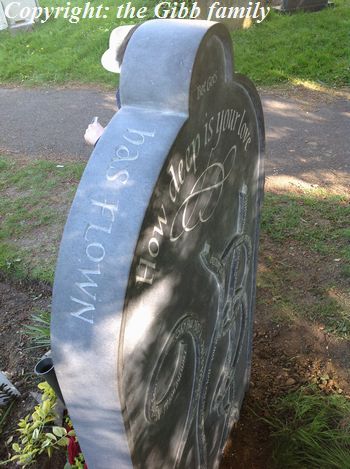 Robin Gibb's headstone #4 (May 2015)
<Click to enlarge>
It seems some of the song titles may actually be read as dedications to Robin. Maybe that is why How Can You Mend A Broken Heart is used twice.
In the top photo on the right, you can see little Maxwell (we think that's him) hiding behind the stone. You can also see the word Bee Gees engraved at the top above How Deep Is Your Love.
In the photos, you can also see the May sunshine playing on the stone, as in the cemetery scene from the 1971 film "Melody" which Robin said he loved for its innocence.
To close this article, which has been extremely hard for us to write, let us quote a passage from one of Robin's favorite novels.
"I lingered round them, under that benign sky; watched the moths fluttering among the heath, and hare-bells; listened to the soft wind breathing through the grass; and wondered how any one could ever imagine unquiet slumbers for the sleepers in that quiet earth."
— From "Wuthering Heights," Emily Bronte
<<<Follow us on Twitter for updates: Bee_Gees_Days>>>