40 years ago today: Bee Gees at a press conference in Tokyo
Bee Gees in Tokyo (October 18, 2014)
<Click to enlarge>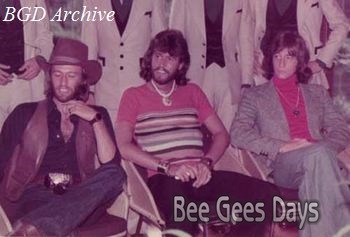 Hard to believe 40 years have passed. (In the "Melody" style, it's, "120 school terms not including holidays.")
40 years ago today the Bee Gees were about to embark on the longest Japanese tour in their long career as part of their "Mr. Natural" tour. The photo shows them at a press conference in Tokyo at Tokyo Hilton which no longer exists.
Although you can't see their faces in this photo, standing behind the seated Gibb brothers were the members of then up and coming Japanese folk rock band Belle. The young performers from northern Japan were chosen to open for the Bee Gees on this tour. They did songs like Albert Hammond's big hit "It Never Rains in Southern California" and popular Japanese songs.
Recently, that is, well, about 10 years ago, one of the former members of Belle remembered those days online and provided some interesting behind-the-scene information. His impression of the young Bee Gees were: "All the members of the Bee Gees and their family were really nice, warm and friendly, except for Robin who seemed to be something of a recluse. He definitly kept himself to himself." Recently, that is, well, about 20 years ago, Robin himself admitted in an interview how he was "still very shy, but not as painfully shy as" he was back then.
On October 18, 2014, there was a press conference and a photo shoot. You could read one of the interviews they gave that day here.
Here are their 1974 Japan Tour dates (part of the "Mr. Natural" tour):
October 19 Nakano Sun Plaza Hall (Tokyo) (Sound check in the afternoon)
" 21 Hiroshima Yubin Chokin Hall
" 22 Ehime Kenmin Kaikan
" 23 Osaka Festival Hall
" 24 Kyoto Hall
" 25 Osaka Festival Hall
" 26 Nagoya City Hall
" 28 Shinjuku Kosei Nenkin Kaikan Hall (Tokyo)
" 29 Shizuoka Sunpu Kaikan Hall
" 30 Yokohama Bunka Taiikukan Hall
November 1 Niigata Taiikukan Hall
" 3 Nakano Sun Plaza Hall (Tokyo)
" 4 " " (Matinee)
" 5 Miyagi Kenmin Kaikan
" 6 Hokkaido Kosei Nenkin Kaikan Hall
The November 4, 1974 appearance at Nakano Sun Plaza was taped and later broadcast as "Love Sounds Special '74" on Television Tokyo Channel 12, Ltd. and its affiliates across Japan. It was the last of the three "Love Sounds Special" shows featuring the Bee Gees: Love Sounds '72, '73 and '74. Of the three, the '73 and '74 shows have been circulating among fans on VHS or DVD and are not so hard to find (you can also find them on YouTube), but the very first '72 one was believed to be wiped by the TV station and has not surfaced to date.
"We know who is yawning…"
Robin Gibb in Tokyo (October 18, 2014)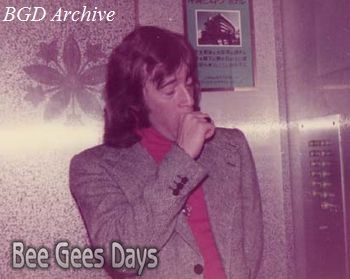 In 1974 the Bee Gees first played Down Under countries, then moved northward doing Asian countries. Japan was the last stop. So it was hard to believe that Robin was still jetlagged at that point, but as a famous night owl, even an early afternoon press meet was something of an ordeal for him. So he was caught yawning here inside an elevator.
A little trivia: Note the orange sweater with stripes that Barry wears in the top photo? Robin also had one in green, and Maurice in white. Wonder if the sweaters were gifts from their mother?
(Photos: Courtesy of bikkuriShima. Shima runs the popular "Fever on Saturday Night! blog, which unfortunately is in Japanese only)