"Will you love me that long?" asks Melody in the 1971 film
"Will you love me that long?"
"Of course! I've loved you a whole week already."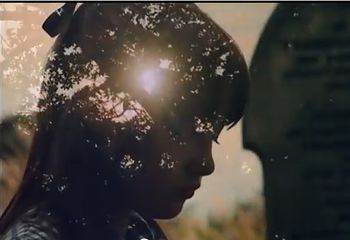 The 1971 film "Melody (a.k.a. "S.W.A.L.K.") was shown on one of our satellite stations last night.
The film was a great commercial success in Japan in 1971, and contributed to the Bee Gees' popularity back then with such songs as "In the Morning," "Melody Fair," both released over here as singles, "To Love Somebody," "Give Your Best," and, of course, "First of May," which was used in the famous cemetery scene.
Did you know that there is a poignant urban legend? Anyone who's ever seen the film would remember that, when Barry Gibb's voice singing about the first of May and undyling love fades away and the sounds of rustling leaves and chirping birds come back on, the two very young lovers philosophize about love, with the girl Melody reading aloud the epitaph from a gravestone nearby:
Here lies my beloved Ella Jane, wife and lifelong friend.
Thank you for 50 years of happiness.
Laid to rest July 7, 1893.
Henry Davis McDavitt joins Ella.
Laid to rest September 11, 1893.
Then follows one of the film's most unforgettable exchanges:
Melody: He only lasted two months after she died.
Daniel: He must have loved her very much.
Melody: How long is 50 years?
Daniel: (calculating) 150 school terms not including holidays.
Melody: Will you love me that long?
Daniel: Of course! I've loved you a whole week already, haven't I?
("First of May" starts playing)
In retrospect, however, this charming little scene is sadly foreboding. The 7of July is now remembered for the 2005 London bombings (7/7), and the 11 of September for the terrorist attacks (9/11). When the film was shot in 1970, those who made the film and the film's lovely lead actress Tracy "Melody" Hyde who delivered the lines could never have known those two dates that testified the undying love would be such sad anniversaries for the human kind.
In the Japanese culture, July 7 has a more romantic significance as it marks our Star Festival. In an old Japanese legend probably of ancient Chinese origin, if the evening sky is clear on July 7th, the two lovers who are separated for the rest of the year can wade across the Milky Way and get united for one night.
There is another small coincidence. One of the main characters in the intersecting stories which make up Clint Eastwood's 2010 film "Hereafter" is a boy who lost his twin brother. He struggles to cope with the loss throughout the film–a story that sounds sadly familiar to anyone who has grown up (and grown old) with the Bee Gees. While the 12-year-old Marcus is trying to get on the underground at a London station, on his desperate mission for one last reunion with his brother, his cap that once belonged to his deceased twin is blown off his head, resulting in him missing the train which then explodes. It is July 7, and the train in the film is blown up during the 2005 London bombings.
I once visited the cemetery where the "First of May" scene was shot on one of my trips to London. It was a quiet autumn day, and the trees are turning colors. As I walked, I passed an elderly couple strolling hand in hand. They could be Daniel and Melody after years of happiness. The cemetery looked quite unchanged, and I felt almost as though I was taking a quiet walk through time and space.
In his solo album "50 St. Catherine's Drive," that is coming out in Japan on October 22, Robin Gibb sings of his twin brother Maurice whom he lost in 2003: "These are the days of wine and rose… Now you're gone." And in their 1969 hit, Barry Gibb sings: "Don't ask me why, but time has passed us by." And we know we still love the Bee Gees after thousands and thousands of school terms (not including holidays)!
Let us only hope there will be no more sad anniversaries in our history.
<<<Follow us on Twitter for updates: Bee_Gees_Days>>>