44 years ago in September – Bee Gees in Tokyo
Bee Gees in Tokyo (September 1, 1973)

<Click to enlarge>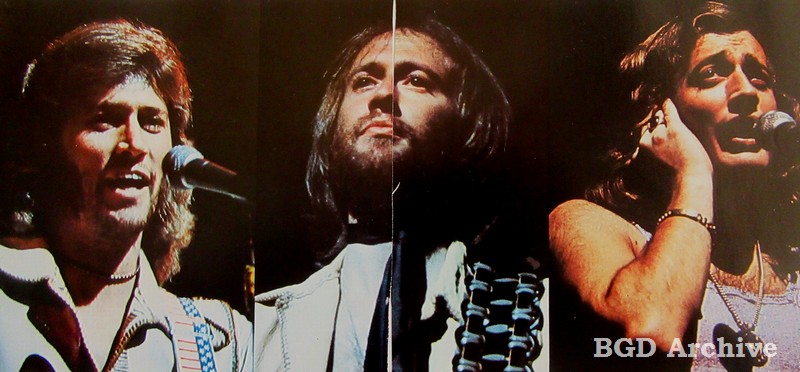 44 years ago in September, Bee Gees were in the middle of their second Japanese tour.
The photos here are from their first concert in Japan that year: Bee Gees at Tokyo Kosei Nenkin Kaikan Hall, September 1, 1973 published on "Music Life" magazine.
So, these photos are from Barry's 27th birthday! Maurice looks as cool as ever, although he does suffer here from this being a two-page spread. Having gained a bit of weight, Robin is looking much more "masculine" here than he did when he first played in Tokyo in March 1972. (According to Robin, measured drinking at dinnertime had brought back his appetite.)
The short article/commentary accompanying the two-page spread reads:
Bee Gees in Japan
While many rock groups come to play in Japan these days, the Bee Gees stood out with their simple, pleasant staging. They opened with 'New York Mining Disaster' as usual, and the 75-minute long set showcased the pitch-perfect, brilliant harmonizing by the three Gibb brothers: Barry, Maurice, and Robin. They played 9 successful concerts throughout Japan and flew back to the U.K. via Southeast Asia which was the last stop of this short Asian tour.
The last concert in Tokyo (September 15, 1974) , a matinee, was later broadcast on TV as the second of the three "Love Sounds Special" shows featuring Bee Gees' Japanese concerts 1972-74. As stated before, the last two of the series from 1973 and 1974 extensively circulate among fans, but the first 1972 one hasn't surfaced yet. (We have some photographs taken from TV (!) and audio recordings, but that's about it.)
Quite recently, a new bootleg CD started to circulate which features the audio recordings from one of the last concerts in Tokyo 1973. That's nothing new, but what's remarkable about this new disc is that it actually includes the complete set by Jimmy Stevens, a Mancunian artist who opened for them that year. More details to follow soon.
{Bee Gees Days}