Bee Gees set list for Japan Tour 1973
Rehearsing in the summer heat (Tokyo, 1973)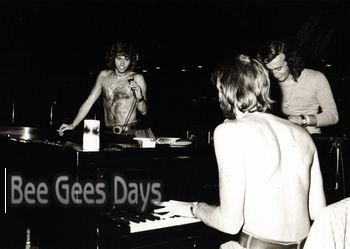 What the Bee Gees didn't know in 1973 was that late August and September in Japan is VERY hot.
Unlike in the "Trafalgar" Tour which brought them to Japan at the very end of it, they flew in directly from London for the Japanese leg of the "Life In A Tin Can" Tour at the end of August 1973.
They must have found the late summer in Japan shockingly hot. So Barry and Maurice were shirtless during the sound check prior to the concert in Shinjuku Kosei Nenkin Hall in Tokyo. Robin was also very "casually dressed" at the press conference and concerts. However, quite incredibly he was often spotted wearing thick wool turtleneck sweater offstage.
Quite incredibly again, Robin was rather plump back then. As he explained, he started drinking with his meal after he collapsed in Washington D.C. in 1971 due to a liver problem. With his favorite drink being whiskey and soda, he put on a bit of weight, which was probably a good thing. But, as TV makes people look heavier, Robin started "watching weight" soon afterwards. So Robin probably was the heaviest in his life in and around 1973.
The set list for 1973 shows is:
New York Mining Disaster 1941 (overture)
To Love Somebody
Really And Sincerely
Lay It On Me
Saw A New Morning
I Can't See Nobody
Words
In the Morning (Morning of My Life)
Living In Chicago (September 1 only)
Don't Forget To Remember
Wouldn't I Be Someone
I Started A Joke
My World
Run To Me
How Can You Mend A Broken Heart
I've Gotta Get A Message To You
Massachusetts
Lonely Days
"Living In Chicago" from their early 1973 album "Life In A Tin Can" was performed only on September 1 in Tokyo. It was Barry's birthday and wedding anniversary, but it was the capacity audience in Shinjuku that received this rare gift from the brothers.
<<<Follow us on Twitter: Bee_Gees_Days>>>