Rehearsals on-going for Barry Gibb U.S. Mythology Tour
Barry Gibb speaking about his family at London
O2 Arena (October 2013)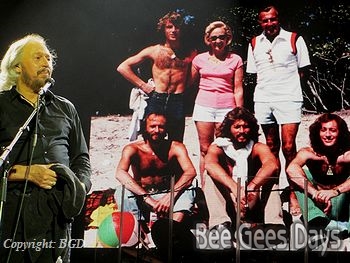 According to the Barry Gibb Mythology Tour Official Facebook, the rehearsals for the upcoming U.S. tour started this week.
A recent post speaks of YAMAHA DTX brought into the studio. (Yey, it's Yamaha!)
Since John Merchant tweeted on March 26: "Can't believe that rehearsals with @GibbBarry are only a month away. Not much time to learn a bunch of new songs…," expectations were raised for some new additions into the set. After all Barry has so far included in his sets such unexpected songs like "Kilburn Towers" and "Every Christian Lion Hearted Man Will Show You."
And now Stephen Gibb has tweeted: "Talking 'bout practice!" with a picture of a prompt screen which shows the words: "I got to say it and it's hard for me/You got me crying like I thought I would never be/Love is believing but you let…" So it looks like the lucky American audience will be getting "Heartbreaker"!
The inevitable question is: who is going to take the lead? Beth Cohen, Samantha Gibb, or Barry himself? (Probably not Stephen?)
Anyway it's less than a month away now.
<<<Follow us on Twitter for updates: Bee_Gees_Days>>>