Japanese tribute band Bay Cees returns to stage today
Bay Cees live (August 6, 2011)
Today (September 1) Bay Cees, one of Japan's Bee Gees tribute bands, returns to stage after a hiatus of over a year.
They are going to do a 30-minute set to open a Donizetti opera "L'Elisir d'amore" at a Sugamo theater located in the old residential/shopping district of Tokyo. The opera also "aims at classical slapstick in the style of old Asakusa opera," so check it out, you music fans!
The Bay Cees will go without the drums and percussions this time, but from next time on, they are considering of expanding the band. The list of band members and songs for today includes:
Bay Cees
Hiroshi: Guitar, vocals
Kiyoshi: Vocals
Atsushi: Guitar, vocals, other musical instruments
Naoki: Bass
Mayumi: Keyboards
1 Melody Fair
2 First of May
3 New York Mining Disaster 1941
4 To Love Somebody
5 Holiday
6 Massachusetts
7 I Started A Joke
8 Let There Be Love
9 I've Gotta Get a Message To You
Atsushi from Bay Cees usually takes part in the opera as a Sunday baritone, but he concentrates on the Bay Cees' opening set for the September 1st performance. Here's more information on the opera.
Tokyo Owarai Kagekijo in Sugamo
"L'Elisir d'amore" by Donizetti

Date and time: Sunday, September 1, 2013 (Doors open at 13:00 and the show begins at 13:30)
Place: Sugamo Studio Four (4-42-4 Sugamo, Toshima Ward, Tokyo: Phone: 03-3918-5944)
Seats 50; Tickets: 3,300 yen presale and 3,500 yen on the day)
(1,000 yen for graduate and undergraduate students, 700 yen for high school students, 500 yen for junior high and primary school students; Smaller children for free)
<<Students are required to show their school IDs when purchasing tickets>>
For details about Owarai Kagekijo, please call 090 -7289-0941 or email tokyo_owarai_kagekijyou@yahoo.co.jp or check out their website. 
For details about Sugamo Studio Four, click here.
<<Access>>
・15 minutes' walk from Sugamo Station
(Go through the Jizo-dori Shopping Street, turn right at Sarutahiko Shrine, and you are almost there!)
or
・Get off at JR Otsuka Station, change to Tram Arakawa Line bound for Minowa, get off at the second station, Koshinzuka, and walk a few minutes)
Nacci from Spicks & Specks and Murakami, the front man of Bees, visited with the Bay Cees after their Chiba gig (August 6, 2011)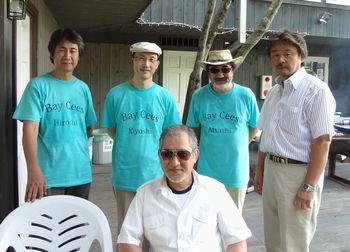 When Bay Cees played in south Chiba in August 2011, Nacci from Spicks & Specks and Murakami, the front man of the Bees, had a visit with them. The photo on the right shows the Bay Cees in blue T-shirts symbolizing the Shonan ocean where they are based, with Nacci on the right and Murakami seated in the front.
The report about the Bees's show in late April is also coming up soon. (So sorry it's taking so long. We have been exremely busy with the 10 Bee Gees "mini LP" reissues!). A plan is also under way for the three Japanese tribute bands to get together in a big charity tribute event. So please watch this space.
We have just heard from the Bay Cees who are busy getting prepared for their Sunday live: "Even though it's been a while, we are pleasantly surprised that our voices still blend quite well. We have tinkered a bit with our band, and it seems to be working for the better." So see you in Sugamo today!
<<<Follow us on Twitter: Bee_Gees_Days>>>