Rare Bee Gees items for sale next week
Bee Gees songbooks and music sheets from '60s and early '70s are among the items to be auctioned this time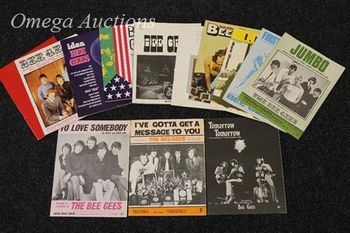 Omega Auctions let us know that some rare Bee Gees' items will be for sale on September 13. The items, that have come from their former international secretary, include:
A rare Australian white label test pressing of "Barry Gibb and the Bee Gees Sing and Play 14 Barry Gibb Songs" (Leedon LL31801) in a good/very good condition, a late '60s promotional photo signed by all five Bee Gees, master reel-to-reel tape of a Bee Gees interview recorded at IBC Studios in London in December 1971, promotional and private photos, and a lot more. There will hopefully be some more rare items to come in future sales also. So keep a lookout!
The photo above shows a collection of songbooks and sheet music of early Bee Gees including two songbooks published in Japan.
Here's a link to some of the items. Happy hunting and bidding, everyone!
<<<Follow us on Twitter: Bee_Gees_Days>>>