The Ghost Twins live streaming at 8 EST tonight
The Ghost Twins getting unveiled at the very long last!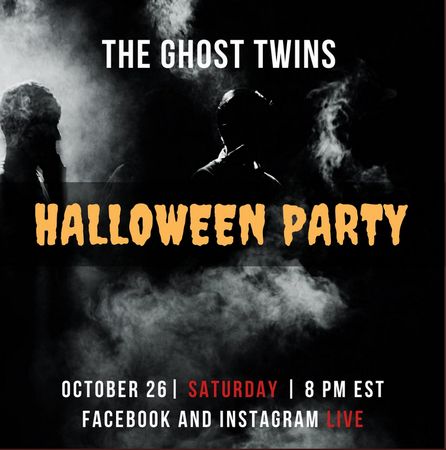 As alerted on Twitter, the live streaming of The Ghost Twins will start at 8 p.m. EST on Saturday, October 26 (Sunday morning at 9 Japanese time) on Facebook and Instagram. Don't miss it!
The Ghost Twins is a new musical project spearheaded by Samantha Gibb. Spencer Gibb has also been part of the project as a producer and photographer, etc. So we have much to look forward to.
In order to learn more about the Ghost Twins, please check out the list of their musical favorites on Spotify. The "twins" chose 15 songs each, making it a list of 30 favorites, but then they both chose the same song, although different versions/covers. That is, they both chose "La Vie En Rose." Interesting, isn't it? One of them chose a Louis Armstrong version while the other chose an Edith Piaf version. It's an interesting list which includes names like Tom Petty and Tom Wait. That gives us all the more reason to look forward to the sound coming from this new unit.
This Halloween live is presumably meant for an eerie October evening, but due to time difference, here in Japan, it will be a – hopefully much less morbid – Sunday morning. So don't forget to tune in to The Ghost Twins between mowing the hedges and looking in the mirrors!
{Bee Gees Days}