The Ghost Twins have arrived!
The Ghost Twins recreating a scene with the ORIGINAL twins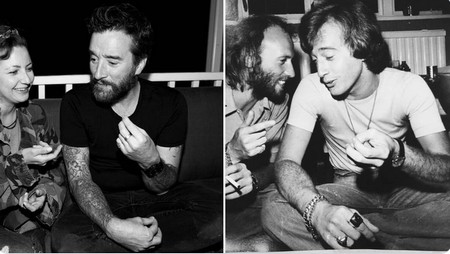 The Ghost Twins – the new project by Samantha & Spencer Gibb, a.k.a. the second-generation of talented TWINS, have finally arrived!
They have posted a photo (on the left) recreating a scene (on the right) with their fathers.
"Recreating a photo of our Dads…we are so excited to share this project with you and the world!
Love,
Sam + Spencer
aka
The Ghost Twins
Samantha wrote to us in May: "Laz and Spencer came out last week and we had an amazingly productive time. Got a lot of writing, recording, and filming done which felt great and was a whole lot of fun!"
They have now announced that the new music is coming very soon (perhaps in time for Christmas ?). Meanwhile in the U.K., Robin John Gibb, younger son of Robin, has also started a series of events honoring the legacy of the Bee Gees which feature members of the old Bee Gees band including Blue Weaver and the Italian tribute band! More about that soon, too.
From what we have already heard, the voices of Sam and Spencer blend so well, with Spencer giving the edge to Samantha's sweetness. Both Sam and Spencer are great artists in their own right, but together, they seem to be in some magical way greater than just the sum of their individualities. And come to think of it, that's how the Brothers Gibb complement one another to create the situation: "They are/were great, each one of them, but together they are/were magic!"
We are now looking forward to the magic of the new generation of the G Twins.
{Bee Gees Days}