[Archive 1978] "Do you know the story about Stiggy & the red cow?"
Bee Gees with
Robert "Stiggy" Stigwood (1975)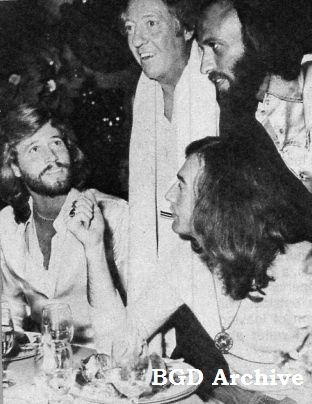 In memory of Robert Stigwood, we are hoping to feature a couple of articles about him from our archive in the coming weeks.
Here's a quick summary from "Do you know the story about Stiggy &the red cow?", a full-page article from September 1978 issue of Superteen.
If you're a fan of The Bee Gees, Andy Gibb, Yvonne Elliman, Eric Clapton or Paul Nicholas, then you've probably seen the little red animal with RSO on it that appears on their albums.
That little red animal is affectionately referred to as "our cow" by all the people at RSO Records.
According to the article:
A couple of months ago, The Bee Gees got together to try and decide what to get their manager Robert Stigwood (known affectionately as "Stiggy") for his birthday.
But it was not an easy task because:
he's a world traveller and one of those men who seems to already have everything! (With a record company full of artists topping the charts for weeks and weeks, he's really doing phenomenally well these days!)
As it happened,
one night while they were watching Saturday Night Live, a brainstorm hit! A few weeks later viewers thought at first they were seeing a commercial placed by RSO Records when a life-sized cow appeared on the tube telling them to buy "any record with a red cow on it."
Somehow, it didn't seem the style of sophisticated RSO, though! After a couple of other "cow appearances," the truth became evident when The Bee Gees appeareed onscreen singing "Happy Birthday Dear Stiggy."
Much to Stigwoo's delight, The Bee Gees dreamed up the idea of giving him a TV commercial for his birthday complete with the famous red cow.
Bee Gees and RSO fans loved it and you can be sure Robert Stigwood will remember the story of "Stiggy and The Red Cow" for some time to come!
— From "Do you know the story about Stiggy & the red cow?" , Superteen, September 1978
This episode simply shows how phenomenally well both RSO and the Bee Gees were doing in those days.
{BGD – January 2016}